First Slate of Full Contact – New Film by Famous Dutch Director David Verbeek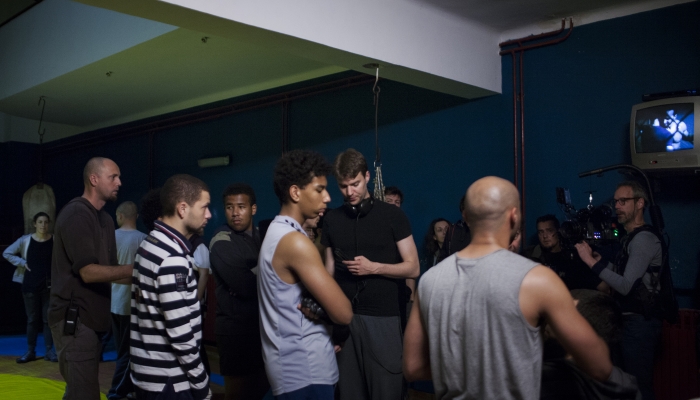 The filming of Full Contact, a new feature by the acclaimed Dutch director David Verbeek and produced by Lemming Film, began. The film stars French screen celebrities Gregoire Colin, Slimane Dazi and Lizzie Brocheré. Jaako dobra produkcija in association with Nukleus film is in charge of the set.
Full Contact is a psychological thriller taking place in the world of present-day warfare. Ivan (35) navigates a drone from base in Nevada, near Las Vegas, and aims for targets in Afghanistan and Pakistan. He is thrown off course by a tragic event: it turns out that a terrorist camp he destroyed was in fact a school, which causes a severe sense of guilt and facing with his victims.

David Verbeek is one of the most agile independent European directors, known for his micro-budget projects. His feature debut BEAT (2205), made for only 500 euro, was selected in the competition at International Film Festival Rotterdam, and his third feature film R U There (2010) was screened in the Un Certain Regard section of Cannes Film Festival. Full Contact is his sixth feature work. It has been developed at several important international co-production forums, including Cinefondation L'Atelier in Cannes 2011. The project is backed by Lemming Film, one of the leading Dutch production companies, and producer Leontine Petit, whose filmography includes collaborations on Cannes-award-winning films such as Heli (2013) by Amat Escalante and In the Fog (2012) by Sergej Loznitsa.

The film stars several well-known French actors. Gregoire Colin, known for his collaboration with director Claire Denis (Beau Travail, 1999), plays the main role, and the rest of the cast includes Slimane Dazi, known by Jacques Audiard's Prophet (2009) and Jim Jarmusch's Only Lovers Left Alive (2013), as well as French superstar Lizzie Brocheré, starring in the award-winning serial American Horror Story.

The shooting will take place in Zagreb, the island of Pag, the municipalities of Stankovci and Brinje and Kornati islands. The project is an applicant for the incentive measure scheme of the Croatian Audiovisual Centre. The Croatian line producer is Jaako dobra produkcija in association with Nukleus film.