The Bridge at the End of the World
view in croatian
Orig. Title: Most na kraju svijeta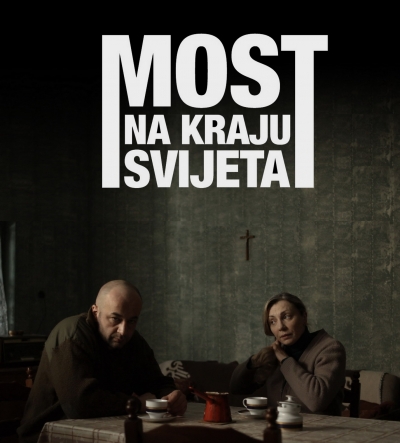 After the Croatian War of Independence ended, Croatian refugees from Bosnia were re-housed in the homes of Croatian Serbs who had left Croatia. The return of the Serbs creates tension within the community, and an old man disappears without a trace.
Director

Branko Ištvančić

Screenplay

Josip Mlakić

Cinematography

Branko Cahun

Editing

Veljko Segarić

Production Design

Zvonko Sarić

Costume Design

Felicita Glavaš

Sound Design

Ivica Drnić

Music

Dalibor Grubačević

Cast

Aleksandar Bogdanović, Sanja Radišić, Boro Stjepanović, Vlatko Dulić, Nela Kocsis, Slobodan Ćustić, Miralem Zupčević, Slaven Knezović, Jelena Perčin, Nikša Kušelj

Producer

Irena Škorić

Co-producers

Goran Radman, Petar Jevtić, Almir Šahinović, Zoran Tasić

Production

Artizana film (HR)

Co-production

Kinematografska kuća (RS), HEFT (BA), Dari films (FR), Hrvatska radiotelevizija / Croatian Radiotelevision – HRT (HR)

Support

Hrvatski audiovizualni centar (HAVC), Fondacija za kinematografiju Sarajevo, Ministarstvo kulture Republike Srbije

Croatian Distribution

Continental film
Branko Ištvančić (1967) graduated in film and TV directing from the Academy of Dramatic Art in Zagreb in 1999. Deeply rooted in the Croatian documentary tradition, Ištvančić pays special attention to the humane, but also uses humour in the treatment of his subjects. His documentaries include the award-winning short film Wellman (2003) and the critically acclaimed The Cormorant Scarecrow (1998). His first feature film The Ghost in the Swamp (2006) was Croatia's second-highest grossing film at the box office in 2006 and marked the resurgence of interest in home-produced feature films for children. His short fiction film Recycling (2009) was part of the omnibus Zagreb Stories.