The Bridge by Bobo Jelčić enters post-production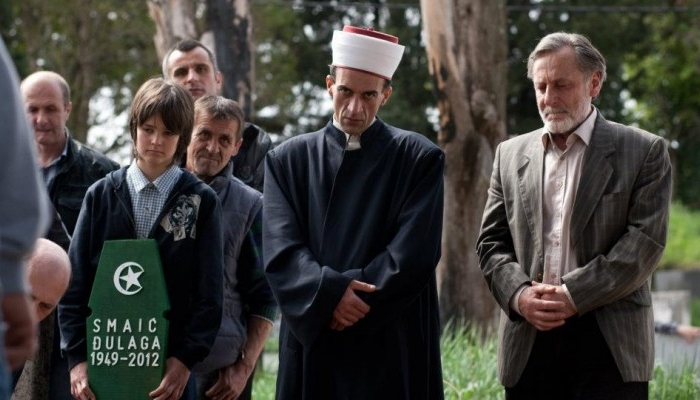 After five weeks of filming in the towns of Mostar and Čapljina, the final shot of The Bridge (Obrana i zaštita), a film tale about prejudice, human weaknesses and conflict between the individual and the society and himself, was filmed.
The plot of the film, written and directed by Croatian director Bobo Jelčić, takes place in Mostar, a town divided into the Croatian and the Bosnian side even twenty years after the war. The protagonist is a Croat named Slavko and the story revolves around his doubts whether to attend the funeral of his pre-war friend, a Muslim.
The film stars Bogdan Diklić, Nada Đurevska, Ivana Roščić, Izudin Bajrović, Vinko Kraljević, Rakan Rushaidat.
Acclaimed theatre and film director Bobo Jelčić is known for his specific approach to the stage play. Opposite Nataša Rajković, he collaborated on a series of award-winning plays (From the Other Side, Observations, Slowing Down, Insecure Story), while his feature debut film Black Coffee / Ono sve što znaš o meni (2005) was screened at Motovun Film Festival and Zagreb Film Festival.
Still in the phase of development, The Bridge was selected among three best projects at Training Network workshop held in Tallinn in 2010 as part of the 14th Black Nights international film festival. In the winter period of 2012 it was granted support from the Global Film Initiative, an international platform devoted to the promotion of intercultural differences.
The crew working on The Bridge included Radivoje Andrić (assistant director), Erol Zubčević (director of photography) and Ivana Fumić (editor), alongside Mario Ivezić (set designer), Sanja Džeba (costume designer) and Ana Bulajić Črček (make-up artist).
The Bridge is a joint project of the production companies Spiritus Movens from Zagreb, Produkcija Kadar from Široki Brijeg and Croatian Radio and Television. It was co-funded by the Croatian Audiovisual Centre and Sarajevo Film Fund.
Photo albums with stills from the film can be found on the film's official Facebook page.