Series of German TV films about detective Branka Marić filming in Split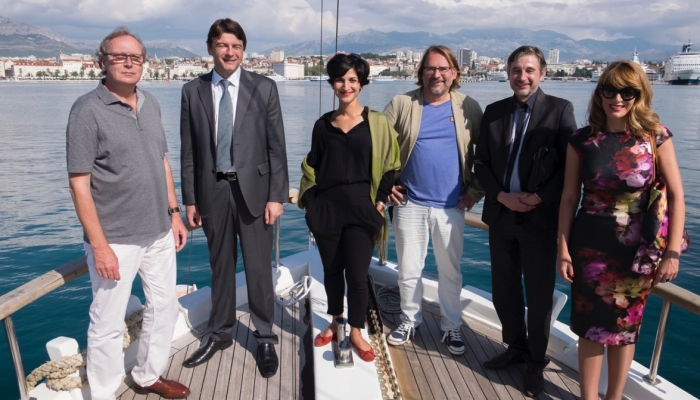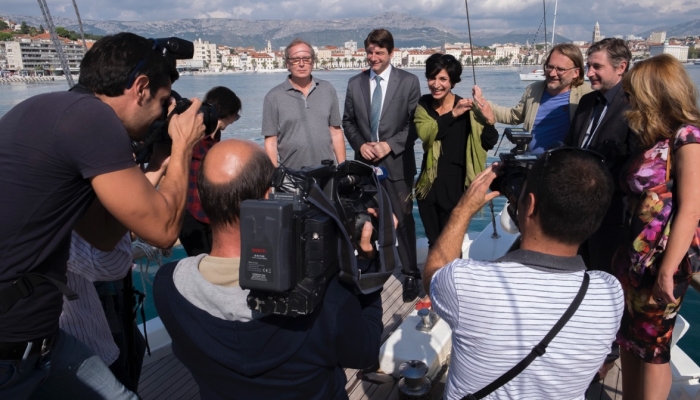 On October 8th, in the ACI marina in Split, the public was introduced to a project that has been filming in Split and the surrounding area these last few weeks – a German series of TV films about witty super cop Branka Marić, a fictional employee of the Ministry of Internal Affairs in Split. Minister of Tourism Darko Lorencin, head of the Croatian Audiovisual Centre Hrvoje Hribar, Deputy Mayor of Split Goran Kovačević, producer Lutz Wiedlich from Constantin Television and lead actress Neda Rahmanian were all present at the press-conference.
Minister Lorencin noted that the filming industry is a great form of promotion and that a project like this will definitely attract new tourists to Split. Deputy Mayor of Split, Goran Kovačević, welcomed filmmakers, saying that the city will continue to attract similar projects. Hrvoje Hribar, head of the Croatian Audiovisual Centre, said that foreign producers choose Croatia not only for its natural beauty, but also because of its reputation in the film industry and its work ethic, which lead actress Neda Rahmanian also praised, saying that she is very impressed with the city as well as with the crew working on this project.
Two television films, the first called Branka Marić and the Devil of Split and the second, Branka Marić and the Lost Son, chronicle detective Branka Marić's investigations. The lead character is played by Neda Rahmanian. Along with the German cast which include Lenn Kudrjawizki, Kasem Hoxha, Alexander Jovanovic, Andreas Guenther and Max Herbrechter, significant roles are also played by Croatian actors such as Alma Prica, Leon Lučev, Goran Navojec and Janko Rakoš. Michael Kreindall is the director, while Christoph Darnstädt wrote the screenplay. Over 400 extras are engaged in the films' shooting.
The German production house Constantin Television is producing the films for ARD Broadcasting, which had previously filmed similar detective series in Istanbul, Barcelona and Bolzano. This is the first time that a German production house has created a fictional series portraying everyday Croatian life while the Croatian characters are played by German stars in the German language. These types of series are very popular in Germany and attract approximately 5 to 6 million viewers.
Filming in Split and the surrounding area is supported by the Croatian Audiovisual Centre's incentives program, while production is handled by the Croatian production house Pakt Media. More than two thirds of the crew are Croatian film professional, including creative director Ivica Hušnjak, camera operator Mirko Pivčević, make-up artist Tina Jasenković, filming director Sanjin Krapinec, first assistant director Marko Šprajc, and others. The German producer will spend approximately 13 million HRK in 45 days of filming, and will receive a refund of costs amounting to approximately 2.5 million HRK. Filming will run until November 13th, while the film is set to premiere in the spring of 2016.
High resolution photos can be downloaded here; please credit photos to Erika Hauri
Cover photos: from left to right - producer Lutz Wiedlich from Constantin Television, Minister of Tourism Darko Lorencin, lead actress Neda Rahmanian, head of the Croatian Audiovisual Centre Hrvoje Hribar, Deputy Mayor of Split Goran Kovačević and Alijana Vukšić. Director of the Tourist Board of Split