Children's adventure series Christmas in the Sun began filming on the island of Brač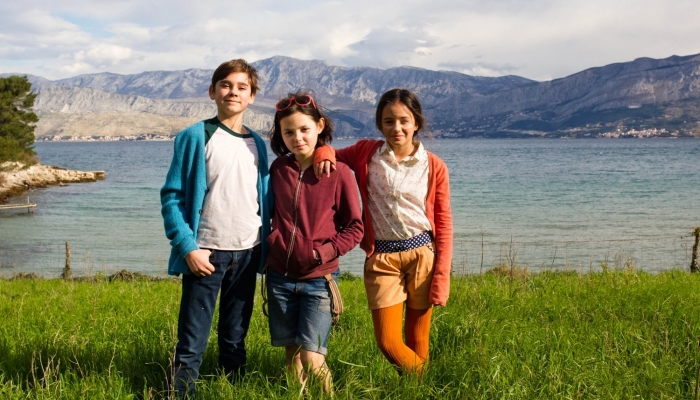 In Bol on the island of Brač, children's adventure series with a working title Christmans in the Sun began filming. It is produced by one of the most active Swedish TV companies – Tre Vänner. The filming is organised in cooperation with the Croatian production company Kinorama.

Christmas in the Sun is a children's adventure TV series about the experiences of 11-year-old Minna and 13-year-old Sam, coming from Stockholm to visit their relatives on the island of Brač. Their 11-year-old cousin Bianca, whose mother runs a small family hotel, also lives on Brač. The children look forward to the travelling and playing, without even realising they will soon become involved in revealing the secrets of Aquilla the pirate, whose ship sank near the island's shores in the 16th century.

The series stars Lea Stojanov, Alexandra Breschi and Buster Isitt. In Sweden Lea Stojanov is already a star: she starred in several TV series and the first two parts of the film Easy Money (Snabba cash, 2010 and 2012). Buster Isitt also played a few parts and Alexandra Breschi is debuting with this role. The actors are mainly of Swedish origin, but some roles will also be played by Croatian actors.

The makers of this series, Tomas Tivemark and Johan Kindblom, also boast several other Swedish hits. Their comedy series Svensson Svensson is the most viewed series in the history of Swedish television, while Cleo won countless awards on the local and international market. Tivemark and Kindblom wrote the series together with Sofie Forsman and Ida Kjellin.



Buster Isitt, Alexandra Breschi and Lea Stojanov on the set of Christmas in the Sun, photo by: Thomas Karlsson

Director Anna Zackrisson said she is looking forward to a classic tale about the search for lost treasure, a story that includes secret maps, codes, excitement and action, fight between good and evil. The story will be a combination of action and comedy, with a special focus on the three little heroes. The filming of Christmas in the Sun is organised in collaboration with Kinorama production company.

By 16 May the filming will take place on locations in Bol, Pučišća, Lovrečina bay, Vidova gora, Brač beaches, coves and roads. The crew then moves to Zagreb to finish the set on location near Zagreb. The completion is scheduled for 28 May and broadcasting for the week before Christmas on Swedish national television SVT, prime time.

The Tre Vänner TV company (trans. Three Friends) was established in 1985. It is one of the largest Swedish independent companies involved in the production of TV series (e.g. The Fjällbacka Murders, based on the characters from the popular crime novelist Camilla Läckberg's novels) and feature films (Easy Money I and II).

High resolution photographs can be downloaded on this link.
Title photo: Buster Isitt, Alexandra Breschi and Lea Stojanov, photo by: Thomas Karlsson