30th Award to Halima's Path; Ostojić Croatian Record-Breaking Award-Winner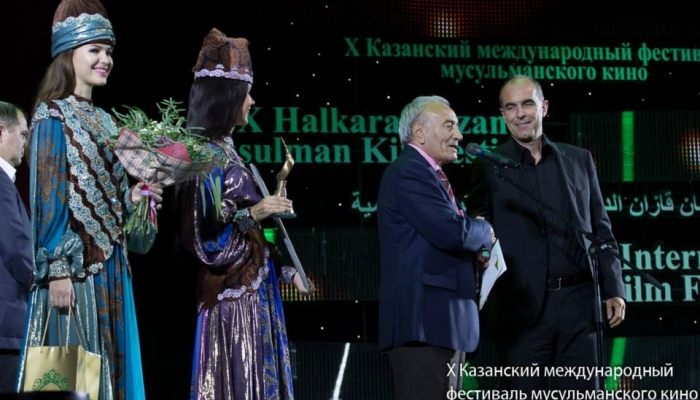 The film Halima's Path, directed by Arsen A. Ostojić, has won a Grand Prix for best feature fiction film at the International Muslim Film Festival in Kazan, Republic of Tatarstan, Russia, where it took place 5-11 September. This is the 30th award presented to this film in total, which makes it the Croatian record holder by the number of awards won.
The award was given to Ostojić by the jury chairman, Khodzha kuli Narliyev, a famous director from Turkmenistan, before 1,500 spectators at the festival closing ceremony.
In parallel with the Kazan award ceremony, the news came that Halima's Path won another prize, its 31st – the Audience Award at the Chichester International Film Festival in United Kingdom, taking place 14-31 August. The film was screened in the East Meets West section, along with Vinko Brešan's The Priest's Children and another 18 titles from Slovenia, Hungary, Kosovo, Albania, Turkey, Romania, Poland, Estonia and Russia.
Halima's Path was produced by Arkadena Zagreb, Studio Arkadena from Ljubljana and FIST Produkcija from Sarajevo, written by Feđa Isović and directed by Arsen A. Ostojić, with Ostojić and Slobodan Trninić as producers. It is a story about a kind Muslim woman named Halima who is trying in vain to identify the remains of her son, killed in the Bosnian war and buried in one of the mass graves. She refuses to give her blood for analysis to hide the fact that he was not her biological, but secretly adopted son. She realises finally that the only way to find her son is to find his birth mother, who has not been seen for over 20 years…
In the last two years the film has participated at almost 50 festivals and fairs on four continents. In 2012 at the Pula Film Festival, the film won the audience award, Pula Golden Gate, best film award at the discretion of the Young Cinephile Jury, and Olga Pakalović won a Golden Arena for best supporting actress. International awards followed, including those at the Festival of Eastern European Film in Cottbus, South East European Film Festival in Los Angeles, Festroia International Film Festival in Portugal, MedFilm Festival in Rome, Raindance Film Festival in London, Dayton Beach International Film Festival and International Oriental Film Festival in Geneva.
Also, it was the Croatian Academy Award candidate film in 2013.
Stills from the film can be found on this link, and the trailer can be downloaded here.
Title photo taken from the website kazan-mfmk.com, photo by Elena Gredushko