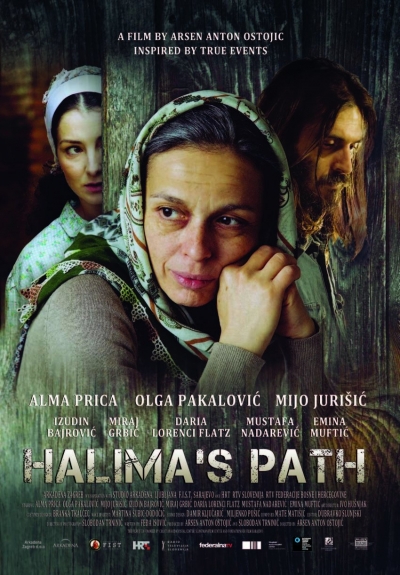 Halima's Path tells the tragic but inspiring story of a good-natured Muslim woman Halima who tries, without success, to identify the remains of her son who was killed in the Bosnian War and buried in one of the many mass graves. She refuses to give blood for DNA analysis, hiding the fact that her son was secretly adopted and is not her biological son. She realizes that the only solution to finally find her son's remains is to track down his biological mother who has not been seen for more than 20 years. But soon after finding her, a sequence of tragic events spirals out of control, with unexpected results.
Director

Arsen Anton Ostojić

Screenplay

Feđa Isović

Cinematography

Slobodan Trninić

Editing

Dubravko Slunjski

Production Design

Ivo Hušnjak

Costume Design

Branka Tkalčec

Music

Mate Matišić

Sound Design

Damir Ključarić

Cast

Alma Prica, Olga Pakalović, Mijo Jurišić, Mustafa Nadarević, Izudin Bajrović, Miraj Grbić, Daria Lorenci, Dejan Aćimović, Minka Muftić, Miodrag Krivokapić, Gordana Gadžić, Aldin Tucić, Muhamed Bahonjić, Marija Omaljev, Slaven Knezović, Mario Knezović, Armin Omerović, Marko Plešnik, Žarko Savić, Sebastian Cavazza, Marina Redžepović, Lena Politeo

Producer

Slobodan Trninić

Production

Arkadena

Co-production

Hrvatska radiotelevizija (HRT), Studio Arkadena (SI), F.I.S.T. (BA), Radio-televizija Federacije Bosne i Hercegovine (RTVFBiH)
Arsen Anton Ostojić (1965) studied at the Academy of Dramatic Art in Zagreb and at New York University. He made his first feature film A Wonderful Night in Split in 2004: it won numerous awards and was nominated for the European Film Academy's Discovery – Fassbinder Award in 2004. His second feature was No One's Son (2008). Ostojić teaches film production at the Academy of Dramatic Art in Zagreb, following several teaching assignments in New York City and in Salzburg, Austria.