When the War Comes premieres at Berlinale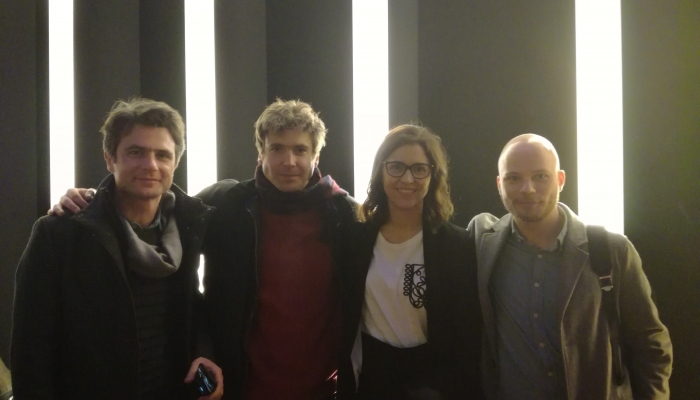 The feature documentary film When the War Comes premiered in the Panorama programme of the 68th Berlin International Film Festival. Attending the screening were Croatian co-producer Miljenka Čogelja and colourist Dragan Šiša.
When the War Comes is produced by Pink (Czech Republic) and co-produced by HBO (HBO Czech Republic) and Zagreb's Hulahop. The film is co-financed by funds provided by the Croatian Audiovisual Centre. CineStar's Theatre no. 7 was packed for the film's premiere in Berlin, and the director and writer Jan Gebert stayed nearly a full hour after the screening to answers questions from crowd. Among other things, he revealed that they worked three years on the project and how it nearly didn't 'see the light of day' since members of the controversial paramilitary group being filmed, threatening a lawsuit, demanded that certain scenes be removed from the film.
Miljenka Čogelja, who is the Croatian co-producer along with Dana Budisavljević, arrived at the premiere in Berlin with colourist Dragan Šiša. Ahead of the premiere Čogelja stated:
'We noticed this project two years ago at a ZagrebDox pitch. That is when we met Jan Gebert, while we knew the producer Radovan Sibrt from a previous workshop. After their presentation there was a heated debate whether the film, and the media attention it would provide to persons such as the lead Peter Švrček, is actually promoting fascist ideology or the other way around, asking for a public discussion to be held about these issues. We thought the theme was important, that it concerns both us and society, that it is important to talk about it, and that the director, Jan Gebert, will be responsible in his approach to the film, so we offered to co-produce it. Along with the production team at Hulahop, Vladimir Gojun also worked on the film as one of the supervising editors, and the whole picture postproduction was completed in Croatia with colourist Dragan Šiša. The Berlinale is a great means for promoting the film and will, I am sure, fuel the public debate on the dangers of the social and political trends the film speaks about, which are more and more present.'
More information can be found on the festival's official website.
Cover photo: Dragan Šiša, Jan Gebert, Miljenka Čogelja, Lukáš Milota
(*Photo Credit: HAVC)