Short Film Marathon Online includes 16 titles for all those who decide to spend their weekend at home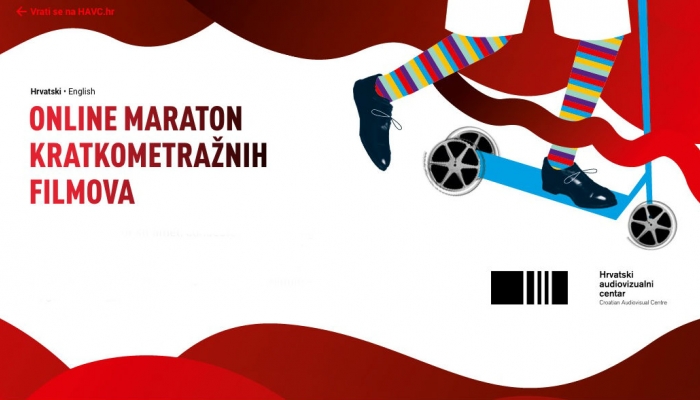 The second Short Film Marathon, taking place this year 19-21 December at 29 cinemas across Croatia and two other locations in Zagreb, includes another treat for short film lovers: an online marathon with as many as 16 Croatian films to make you laugh, to surprise and intrigue you. In other words, the short film marathon will be made available to all those who decide to spend their weekend at home, and it includes a selection of some of the most successful films from international film festivals.
In these 48 hours, Croatian Audiovisual Centre's website www.havc.hr will present 16 films of different genres – from experimental and documentary to fiction and animated. The films will be available online from midnight 20 December to midnight on Sunday 21 December. Also, all the viewers of the online marathon will be able to vote for the film they liked most.
The experimental film selection includes Site Selection, directed by Mare Šuljak, the best debut film at the Days of Croatian Film 2012, also selected for the prestigious Oberhausen festival; Football by Ana Hušman, screened at the acclaimed Clermont-Ferrand festival; Le samourai by Ivan Faktor and Arheo 29 by Vladislav Knežević, the winner of Oktavijan for best experimental film 2010.
The documentary list includes Nebojša Slijepčević's Real Man's Film, covering a specific additional aspect of traditional festivities in southern Croatia; The Verdict by Đuro Gavran, focusing on the live broadcast of sentencing the Croatian generals Gotovina, Čermak and Markač; Two Furnaces for Udarnik Josip Trojko by Goran Dević, portraying the remnants of the once large iron industry in Sisak; and Fire! by Tonći Gaćina, depicting the summer of a fire-fighting organisation in Dalmatian hinterland.
The animated film selection presents the Oktavijan-winning best animated film in 2013, The Dance is Over, Maria by Natko Stipaničev, focusing on the life of two people on an isolated island; the multi-award-winning animated-documentary film Father by a group of directors; the experimental slow-motion Pain So Light That Appears As Tickle by Dalibor Barić; and The Cat by Goran Stojnić, covering the relationships between several different creatures – an old lady, a cat and a bird.
Fiction films are represented by Igor Šeregi's Animal Empire, a humorous drama about young Martin who collects Animal Empire stickers and the only sticker he misses is the kangaroo; Ivan Sikavica's Babysitter, a story about a boy from the hood who decides to watch a football match with his crew instead of looking after his younger brother; Igor Mirković's Little Darling, a story about an 11-year-old girl spending summer in a skyscraper in a Mediterranean town, hanging out with a local delinquent who knows all the street tricks; and Hana Jušić's Terrarium, the Golden Pram winner an ZFF's Checkers section 2012, focusing on an unusual relationship between two cousins spending summer holidays at their grandmother's.
Offline programmes of the 2nd Short Film Marathon take place at 29 cinemas across Croatia and include a total of 66 films. A large number of them are recent Croatian works garnering awards at most important local and international festivals. Admission to all the screenings and events is free of charge, and all the details are available on this link.