Mater awarded at Taormina Film Fest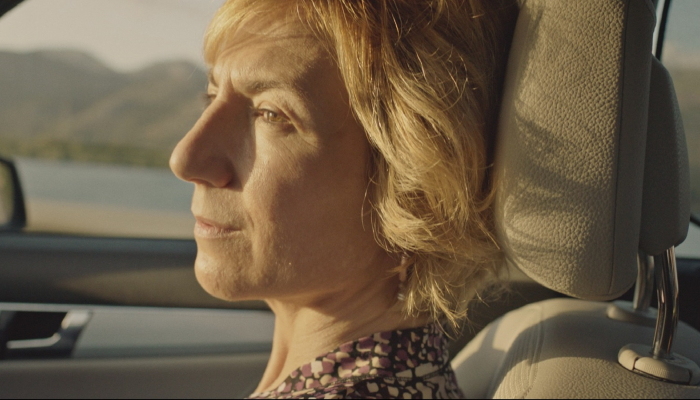 Daria Lorenci-Flatz wins the Best Actress award for her role in director Jure Pavlović's Mater at the 66th Taormina Film Fest, held 11th – 19th July in the Sicilian town of Taormina.
"A refined interpretation that manages to progressively draw in the viewers, until they accept the character of a normal (any) woman, even if she is somewhat aloof, yet in the end reveals her humanity, allowing the viewers to participate in the process," said the justification of the jury, who bestowed Daria Lorenci-Flatz with the Best Actress award for her role in Mater. The list of all award-winning films and titles can be found on this external link.
Thanking the jury via a video message, the actress dedicated her award to all the people in the world who were forced to leave their homes due to war or economic hardship, not unlike herself who had to leave Sarajevo during the war. "I have woven this personal experience into the character of Jasna and it is my hope that the films we make can in some small way change the world and give us hope that we will someday live in a better place," said Lorenci-Flatz.
Alongside Mater, which screened in the Feature Film competition, this year's edition of Sicilian Taormina Film Fest, also screened The Diary of Diana B., directed by Dana Budisavljević, in the festival's Documentary competition.
Director Jure Pavlović's fiction feature debut Mater premiered late last year at the Black Nights Film Festival in Tallinn, also screening earlier this year at FEST – International Film Festival Belgrade, where it won the award for best regional film. The film recently had its Croatian premiere at the Mediterranean Film Festival Split, screening at the Bačvice summer stage theatre in Split. The screening ushers in a summer tour that will see it playing at numerous summer stage cinemas operating as part of the Kino Mediteran network, as well as other open-air cinemas.
Up- to-date information about the screening schedule will be available on the film's official Facebook page.
Mater follows Jasna, an expat who has lived in Germany for many years and now travels to her native village in the south of Croatia with the intention of clandestinely placing her ailing mother in a home for the elderly. Daria Lorenci-Flatz, Neva Rošić, Vera Zima, Anka Vučković, Marijo Jurković head up the cast. The film's director of photography and production designer is Jana Plećaš, while Jure Pavlović edited the film together with Dragan Von Petrovic. Martin Semenčić is credited with sound design, while Katarina Zaninović created the costume design.
Mater is a Croatian production company Sekvenca production, co-produced by Serbian Wake Up Film & Video Production, French Les Films de l'oeil sauvage and Udruženje Novi Film from Bosnia and Herzegovina.
Cover photograph: scene from Mater (Daria Lorenci-Flatz)