Cannes Audience's Roaring Applause for The High Sun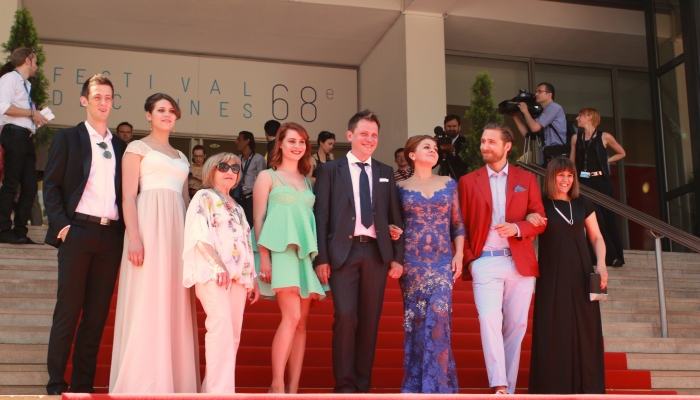 Cannes, 17 May – The feature fiction film The High Sun, written and directed by Dalibor Matanić, premiered at the 68th Cannes Film Festival in the official category Un Certain Regard, receiving a roaring applause from the audience.
The official premiere took place at Debussy hall, and before the screening the cast and crew were greeted by the festival's artistic director Thierry Frémaux.
"No matter where we live in this world, life is too short to waste it on hate and intolerance. This is our way of fighting for love," said Matanić before the screening.
The High Sun is set in three different decades, in two neighbouring villages burdened by historical heritage, and focuses on three stories of forbidden love. The film stars Tihana Lazović and Goran Marković, opposite Nives Ivanković, Dado Ćosić, Stipe Radoja, Trpimir Jurkić, Mira Banjac, Slavko Sobin, Lukrecija Tudor, Tara Rosandić and Ksenija Marinković. Marko Brdar was director of photography, Tomislav Pavlic editor, Alen Sinkauz and Nenad Sinkauz composers, and Julij Zornik sound designer. The producer is Ankica Jurić Tilić, with Petra Vidmar, Frank Celarc, Nenad Dukić and Miroslav Mogorović as co-producers.
The film was produced by Zagreb-based production company Kinorama, with Slovenian film company Gustav film and SEE Film Pro from Serbia as co-producers. The project development was supported by the Croatian Audiovisual Centre and MEDIA Programme, and production by the Croatian Audiovisual Centre, Slovenian Film Centre, Viba Film Ljubljana, Serbian Film Center and the European fund Eurimages. The film's distributer is 2i Film, with Cercamon in charge of international placement and sale.
The High Sun is the first Croatian feature-length film selected for the official competition in Cannes since the Croatian independence. The jury of Un Certain Regard is chaired this year by actress and director Isabella Rossellini, alongside director Haifa Al-Mansour, actress and director Nadine Labaki, director Panos H. Koutras, and actor Tahar Rahim.
High-res photos are available on this link. All the photos were taken by Kinorama & HAVC.