The Little Gypsy Witch
view in croatian
fantasy, children's film, comedy
debut feature
Orig. Title: Duh babe Ilonke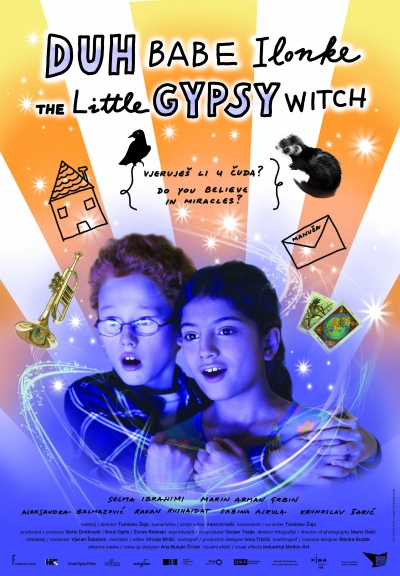 The story of an unusual Roma family told through the eyes of a 10-year-old girl Manuša. When the spirit of her grandma, Ilonka, starts haunting her house, it doesn't take long for Manuša to reveal the family secret that is causing the curse.
Director

Tomislav Žaja

Screenplay

Irena Krčelić

Cinematography

Mario Delić

Editing

Hrvoje Mršić

Production Design

Ivica Trpčić

Costume Design

Blanka Budak

Music

Vjeran Šalamon

Sound Design

Vjeran Šalamon

Cast

Selma Ibrahimi, Marin Arman Grbin, Rakan Rushaidat, Aleksandra Balmazović, Sabina Ajrula, Krunoslav Šarić

Producer

Boris Dmitrović

Co-producers

Knut Ogris, Zoran Risteski, Gorjan Tozija, Vedran Vukašinović

Production

Formula film (HR)

Co-production

Knut Ogris Films (AT), Geyzer Film Production (MK), Hrvatska radiotelevizija (HRT)

Support

Hrvatski audiovizualni centar (HAVC), Eurimages, ORF, Makedonski filmski fond, ÖFI, Filmstandort Austria (FISA), Grad Zagreb, Kulturelle Filmförderung des Landes Oberösterreich

Croatian Distribution

Blitz film & video
Tomislav Žaja (1967) is a graduate of the Film and TV School of the Academy of Performing Arts (FAMU) in Prague. He has written several screenplays and made more than 30 documentary films, as well as adapting two successful stage plays for TV. In 1995 he set up his production company Gral Film, through which he produced and co-produced several short films and documentaries, and two internationally coproduced feature films.