Sonja and the Bull
view in croatian
2012
103' / 106'
DCP
color
romantic comedy
debut feature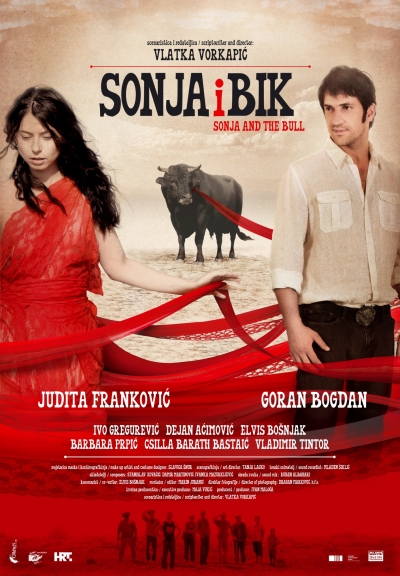 A truck stops at the border between Croatia and Bosnia and Herzegovina: four men are transporting Garonja the bull to a pre-arranged bullfight in Croatia. They do not have the necessary documents, but Stipe, Garonja's owner, comes up with a solution: they will let Garonja graze freely, and cross the border on his own. Who will request a passport from a dumb animal? Sonja, a staunch vegetarian and animal-rights activist from Zagreb, is a passionate opponent of bullfighting. The rural population of Zagora react badly when she accuses them of cruelty to bulls on national TV. They insist that Sonja knows nothing about bullfighting, and furthermore, she would never have the guts to face Garonja the bull in the arena. Stipe, convinced that she's a coward, bets his balls on this. His bizarre wager puts Sonja in a near-impossible position. But her main challenge comes, not from the bullring, but from Ante, the son of the top bullfight organizer, and an insurance agent known for his powers of persuasion.
Director

Vlatka Vorkapić

Screenplay

Vlatka Vorkapić, Elvis Bošnjak

Cinematography

Dragan Marković

Editing

Marin Juranić

Production Design

Tanja Lacko

Cast

Judita Franković, Goran Bogdan, Dejan Aćimović, Ivo Gregurević, Elvis Bošnjak, Barbara Prpić

Producer

Ivan Maloča

Production

Interfilm

Co-production

Hrvatska radiotelevizija (HRT)
Vlatka Vorkapić (1969) studied film and TV directing at the Academy of Dramatic Art in Zagreb. She is an independent artist, screenwriter and director. Vorkapić has directed over 20 award-winning documentary films, two short films, including Driver's Licence (1992) as well as several stage plays, of which the best known are Judith French and Oblak-vila.