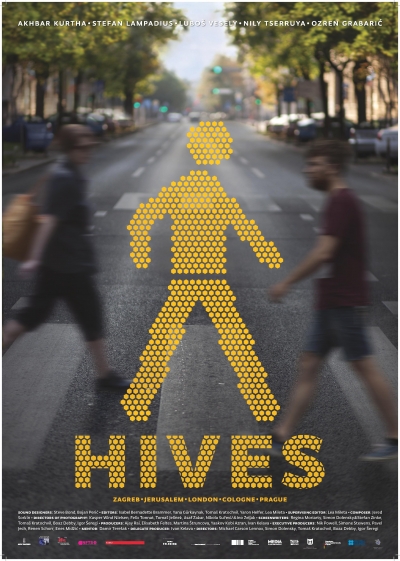 Early morning in Jerusalem, Nira goes to work. In London, Ahmad does the same, so does Ralf in Cologne and so does a priest in Prague. In Zagreb, Matija goes to work as well: or rather, he doesn't, but he acts as if he does. An out-of-breath young man who had to run to catch the bus interrupts Ahmad's routine bus journey. Schoolteacher Nira is interrupted by the rap song that her pupil wrote for her. The priest in Prague does not feel like singing today: instead he feels like (over)sleeping, and missing Mass. Someone falls asleep, and someone else – Ralf – falls in love. These five diverse characters are united by a common thread – they are all listening to urgent news reports about the disappearance of bees. In addition, they are all trying their best, each of them living in his or her own hive: in Zagreb, Jerusalem, London, Cologne and Prague.

Director

Igor Šeregi | Boaz Debby | Michael Lennox | Simon Dolensky | Tomaš Kratochvil

Screenplay

Igor Šeregi | Boaz Debby | Regina Moriarty | Simon Dolensky & Stefan Zinke | Tomaš Kratochvil

Cinematography

Nikola Sučević, Ino Zeljak | Kasper Wind Nielsen | Asaf Zakar | Felix Tonnat | Tomaš Jelinek

Editing

Lea Mileta | Isabel Bernadette Brammer | Yaron Helfer | Yana Gurkaynak | Tomaš Kratochvil

Sound Design

Bojan Perić, Steve Bond, Jan Kalužny, Yana Gurkaynak

Cast

Akhbar Kurtha, Theo Barklem Biggs, Ozren Grabarić, Nily Tserruya, Luboš Vesely, Stefan Lampadius, Linda Begonja, Halina Pasekova, Sabrina Haus, Ksenija Marinković, Yiftach Kaminer, Elad Peretz, Bojan Navojec, Ljubomir Kerekeš

Producers

Ajay Rai | Kobi Azran | Elisabeth Feltes | Martina Štruncova | Ivan Kelava

Executive Producers

Renen Schorr, Simone Stewens, Nik Powell, Pavel Jech, Enes Midžić

Delegate Producer

Ivan Kelava

Production

Akademija dramske umjetnosti (ADU)

Co-production

NFTS (UK), Sam Spiegel Film and Television School (IL), FAMU (CZ), IFS (DE)
Igor Šeregi is currently at MA studies of film directing at Academy of Dramatic Art in Zagreb.
Boaz Debby is finishing film directing at Sam Spiegel Film and Television School in Jerusalem.
Tomaš Kratochvil enrolled at the film and TV faculty of the Academy of Performing Arts in Prague (FAMU) in 2010.
Simon Dolensky studies directing at IFS Internationale Filmschule Köln.
Michael Carson Lennox graduated from National Film and Television School (NFTS), UK.