World premiere of Sara Jurinčić's Valerija in competition at 30th Sheffield DocFest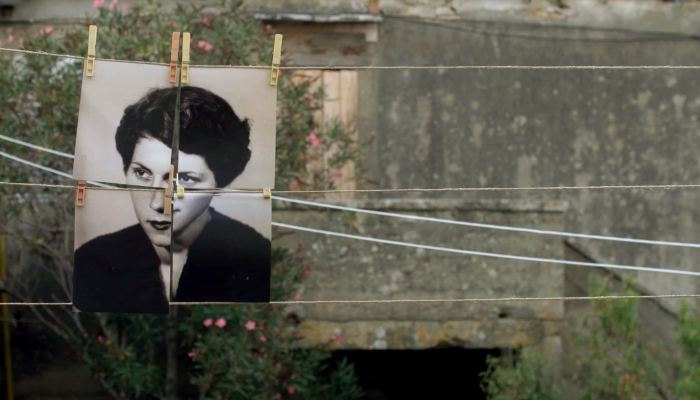 Sara Jurinčić's experimental documentary short Valerija to have its world premiere at the 30th edition of Sheffield DocFest, in the International Short Film Competition. In addition, Vlad Petri's feature film Between Revolutions to screen in a special festival programme. Both films are (co)produced by company Restart. The festival runs 14th – 19th June.
Sara Jurinčić's experimental documentary Valerija is one of only ten titles from the entire world selected for screening in the International Short Film Competition at the 30th Sheffield DocFest.
In the words of its author, Valeria is the result of several years of research into the female side of her family tree, generations of her island ancestresses, and traditional rituals that occur on the verge between the conscious and subconscious. The film, highlights Jurinčić, is an intimate encounter with all of "her women".
"Working on the project has connected me with a strong team of women who were an immense inspiration. The poem "Vijek" (Age) written by Olja Savičević Ivančević is used as the main narration in the film, while Olja's advice and encouragement made all the difference in developing the project. The traditional island folk songs were selected thanks to the legendary opera singer Dunja Vejzović ("Ovo je naše najbolje" /This is Our Best). The collaboration with the talented Marta Kolega and the choir Fige lent an added layer of contemporary interpretation to island rituals, while the women's association Luzor and all the generations of its members have connected me with the place where my roots are from.
I am truly looking forward to the world premiere at Sheffield DocFest, after which Valerija will have its regional premiere and then continue its festival journey", said the film's director, Sara Jurinčić, who also penned the script.
The film's producers are Vanja Jambrović (Restart) and Sara Jurinčić (Studio Nomad).
"At Restart we nurture collaborations with new documentary authors, we love discovering up-and-coming talents and helping them forge their professional paths on the domestic and international scene. Sara first completed our School of Documentary Film where she already made a very accomplished short, after which we continued collaborating on Valerija at the incubator for new authors – Restart Laboratory. I'm really glad that her talent has been recognized internationally and her film will premiere at Sheffield", said Vanja Jambrović.
The rest of the film crew is comprised of cinematographer Ivan Slipčević, editor Tomislav Stojanović and sound designer and composer Jens Christian Bo Johansen. Igor Bezinović and Nebojša Slijepčević mentored the project in development.
During development, the project was successfully presented in the industry programme at DOK Leipzig, as well as at the goEast EW Talent Lab at the Festival of Central and Eastern European Film in Wiesbaden.
Valerija was created with support from the Croatian Audiovisual Centre, the City of Zagreb, and the MEDIA sub-programme of Creative Europe.
In addition to Valerija, the Sheffield DocFest audience will get a chance to see the feature-length hybrid documentary Between Revolutions created by Romanian director Vlad Petri, which is a Restart co-production (co-producer is Oliver Sertić).
It had its world premiere at Berlinale, winning the FIPRESCI Award for best film in the FORUM section, followed by a special mention at ZagrebDox. It went on to screen at a number of important international festivals such as DocAviv, CPH:DOX, Thessaloniki International Film Festival and others.
Between Revolutions is produced by Romanian company Activ Docs, in co-production with houses from Croatia (Restart) and Iran (undisclosed). The film has been supported by the Romanian Film Centre CNC and the Croatian Audiovisual Centre, as well as the Doha Film Institute.
Between Revolutions is screening in Sheffield in Perspectives on Iran, a special programme devoted to titles portraying life in Iran from different viewpoints.
This year, the Sheffield International Documentary Festival – Sheffield DocFest – is held in the UK, 14th – 19th June, and will screen 122 titles from 52 countries. As many as 37 of those will be world, 20 international, 10 European, and 47 British premieres, while eight films will screen in different retrospectives.
More information about the festival is available on its official website.
Cover photograph: scene from Valerija