Warsaw Grand Prix to May Labour Day; Butterfly Vision Best Ukrainian film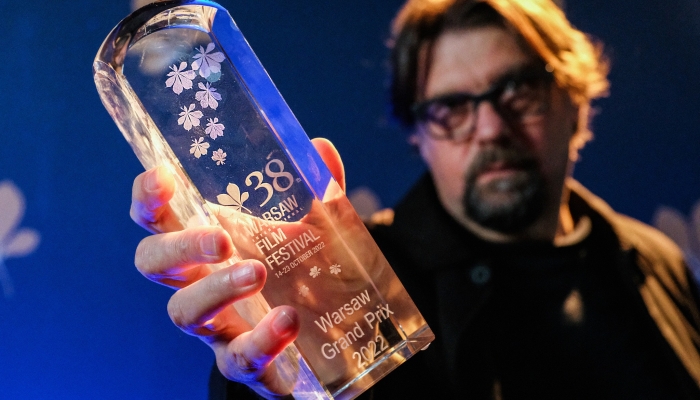 Croatian minority co-production May Labour Day directed, written and produced by Pjer Žalica (Croatian co-producers Lana Matić and Boris T. Matić) won the Grand Prix at the 38th Warsaw Film Festival. In addition, Maksym Nakonechnyi's Butterfly Vision, also created in co-production with Croatia (co-producer is Anita Juka, 4Film), won the award for Best Ukrainian Film. The festival was held in the Polish capital 14th – 23rd October.
The Grand Prix was awarded by an international jury comprised of US director and producer Camille Hardman, Polish producer Ewa Buczynica, Chinese producer and screenwriter Zhaoyi Zhang, Romanian director Bogdan George Aptri and Slovakian film critic and sociologist Ladislav Volko.
Croatian minority co-production May Labour Day directed, written and produced by Pjer Žalica had its international premiere in the International Competition.
A conversation with the director on winning the Grand Prix is available on the festival blog.
The story centres on Armin, returning to Bosnia after working in Germany for ten years. He has just gotten married and wants to surprise his father Fuda. But Fuda is nowhere to be found. The neighbours say he has been arrested, but nobody knows why. The newspapers say he is suspected of a war crime. As the neighbourhood celebrates May Labour Day, Armin tries to get to the truth.
The cast is made up of Muhamed Hadžović, Emir Hadžihafizbegović, Admir Glamočak, Boris Isaković, Aleksandar Seksan, Mirvad Kurić, Jasna Žalica, Tatjana Šojić and many others.
The film's producers are Pjer Žalica, Aida Huseinović and Rusmir Efendić, with co-producers Boris T. Matić, Lana Matić, Labina Mitevska, Jelena Mitrović, Igor Kecman and Ivan Đurović. May Labour Day is produced by the association for the promotion of art and culture, FORUM, in co-production with houses Propeler Film (Croatia), Sisters and Brother Mitevski Production (North Macedonia), Backroom Production & Baš Čelik Film House (Serbia) and ABA Film (Montenegro).
Butterfly Vision scores Best Ukrainian Film
Ukrainian director Maksym Nakonechnyi's Butterfly Vision has been awarded Best Film at the 13th Odesa International Film Festival. Due to the Russian invasion of Ukraine, this year the festival could not be held in its native city, therefore, its national competition was screened as part of the Warsaw Film Festival.
"I am proud of Maxim (Nakonechny) and the team. I want to note that I, Max, and our entire team have many girlfriends who are currently defending Ukraine as soldiers, fighting for their lives as paramedics, some of our girlfriends, whom we know personally, are in captivity. Therefore, it is extremely important to talk about them, to do everything so that their stories are known and seen. And that is why our film is very important and I am happy that it won an award," said Irina Tsylyk, who co-wrote the script alongside director Maksym Nakonechnyi.
Butterfly Vision is a harsh and surreal story about a Ukrainian woman named Lilia who, after spending months as a prisoner of war, struggles to return to her life as a soldier and wife in her homeland, refusing to be labelled a victim.
The film premiered in Un Certain Regard at this year's Cannes Film Festival, after which it went on to screen at a series of international festivals, including the War on Screen International Film Festival in France, where it won the student jury award, and the Young Directors IFF in Saint-Jean-de-Luz, taking home the Grand Prix and the Best Actress award for Rita Burkovska.
Besides co-producer Anita Juka, the film crew involved the participation of many other film professionals from Croatia, including cast members Daria Lorenci Flatz and Edvin Liverić, editor Ivor Ivezić, assistant editor Doris Dodig, and editing supervisor Vladimir Gojun, while the editing process was done at production house 4Film in Zagreb. Production coordinator was Paulina Križić, with Laura Sinovčić as executive producer.
The film is produced by Ukrainian production house Tabor Production, in co-production with Croatian 4Film, Czech MasterFilm and Swedish Sisyfos Film Production.
Several other Croatian titles also screened across different competition programmes at Warsaw. Dubravka Turić's feature debut Traces had its world premiere at the festival, alongside Hrvoje Mabić's fiction short Boy. Juraj Lerotić's multi-award-winning debut Safe Place was also featured at the festival, while apart from May Labour Day and Butterfly Vision, there was another minority co-production competing at the festival – Mother, directed by Zornitsa Sophia (co-produced by Irena Marković, Focus Media).
The Warsaw Film Festival is the most important film festival in Poland and in 2009 it received the International Federation of Film Producers' Associations (FIAPF) classification as a festival with a feature film competition, which puts it on a par with festivals the likes of Berlinale, Cannes, Venice, San Sebastián, Karlovy Vary and others.
This year's edition took place 14th – 23rd October, while more information about the Warsaw Film Festival is available on the festival's official website.
Cover photograph: Pjer Žalica holding the Warsaw Film Festival Grand Prix statuette