The Constitution wins in Italy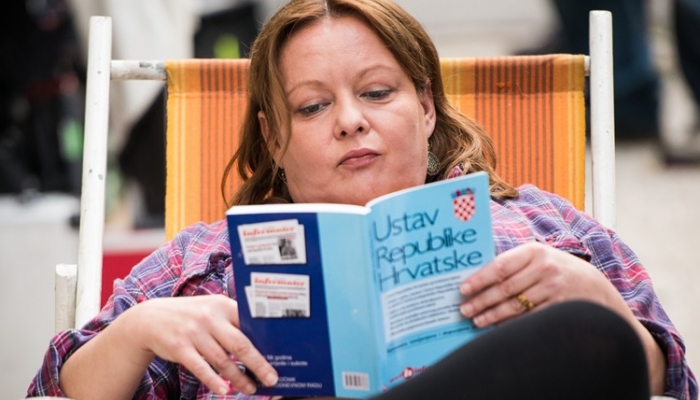 The Constitution won Best Screenplay, Best Actor and the Audience Award at the 18th edition of the European Film Festival in Lecce.
In awarding Rajko Grlić and Ante Tomić the award for Best Screenplay, the jury stated that the film is 'A beautiful example of a complex story that toys with various prejudices. A difficult theme that becomes accessible through irony and light tones.'
The SNGCI (Italian National Syndicate of Film Journalists) awarded Nebojša Glogovac the Best Actor Award for his interpretation that 'explicitly speaks about the marginalization of homosexuality and abuse of minorities. Under the dead of night, his character discovers the strength of unexpected solidarity, which rises above ethnic conflict and hatred towards everything that is "different"'. The Constitution also won the Audience Award.
With these latest awards, Rajko Grlić continues his festival success which began with the film's international premiere in Montreal, 2016. This 'love story about hate' was recently recognized at the Zinegoak International LGBT Film and Performing Arts Festival in Bilbao where it won two awards. The Diversity and Human Rights jury unanimously voted to award Rajko Grlić for 'a realistic portrayal of hate. It is a film that uses mild humor, respect and precision to highlight the differences between the main protagonists who manage to overcome their own troubles by uniting in solidarity, goodwill and respect.' The award for Best Supporting Female went to Ksenija Marinković.
The film was co-financed by the Croatian Audiovisual Centre, the Czech Film Fund, the Film Agency of the Republic of Macedonia and the Slovenian Film Centre, with support from the EU's Creative Europe MEDIA and the European co-production fund Eurimages.
For further details on the film festival in Italy and all the awards please click here, while information on The Constitution is available at this link.