The Constitution wins Best Film in Santa Barbara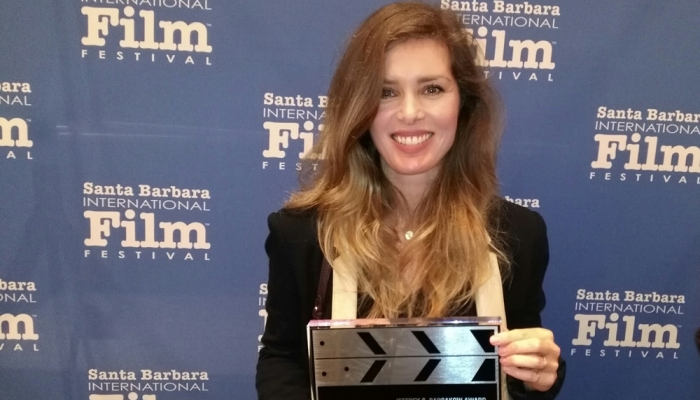 Rajko Grlić's film The Constitution crowned its American premiere with a win at the Santa Barbara International Film Festival. The Constitution beat out 30 other films in the category of International Feature Film, and the award was accepted by actress Leona Paraminski.
With this award, The Constitution continues its successful festival tour which began with its international premiere in Montreal last year, where it won the Grand Prize of the Americas. Last year, 32 021 tickets for the film were sold, making it one of the three most watched films in 2016.
The Constitution stars Nebojša Glogovac, Ksenija Marinković, Dejan Aćimović and Božidar Smiljanić. The film is written by Ante Tomić and Rajko Grlić, the cinematographer is Branko Linta, music is by Duke Bojadziev, the art director is Željka Burić, the costume designer is Leo Kulaš, the editor is Andrija Zafranović, the make-up artist is Ana Bulajić Črček, the sound engineer is Nenad Vukadinović, and the sound designer is Srdjan Kurpjel. The producer is Ivan Maloča and Interfilm Zagreb, Croatian Radio Television (HRT), In Film Prague, Revolution Skopje, Sever&Sever Ljubljana and Film&Music Entertainment London. The film is co-financed by the Croatian Audiovisual Centre, the Czech Film Fund, the Macedonian Film Agency, and the Slovenian Film Centre, with support from the EU's Creative Europe – MEDIA and the European co-production fund Eurimages.
During the last 30 years, the Santa Barbara International Film Festival has become one of the leading festivals in the United States. Each year, the festival, which runs for 11 days, screens over 200 films and attracts 90 000 viewers. The 32nd edition was held from February 1st to 11th, and, along with The Constitution, screened On the Other Side by Zrinko Ogresta, the minority co-production House of Others by Rusudan Glurjidze and The Beast, a short film by Miroslav Sikavica.
For further details please visit this link.