The Chicken wins eight festival awards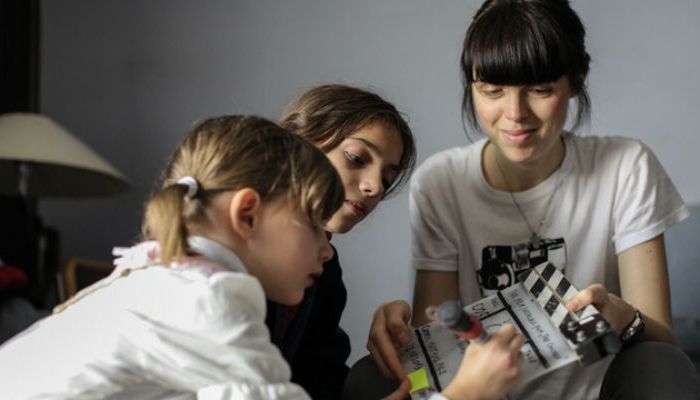 The German-Croatian coproduction, The Chicken by Una Gunjak, winner of the 2014 European Film Award for Best Short Film, is continuing to rack up festival awards. The film, about a six-year old girl who receives a chicken as a birthday present from her father in the besieged city of Sarajevo, has won eight festival awards in the month of September!
The Chicken was awarded Best Short Film, as was Iman Alibalić for Best Actress, at the 4th Metricamente Corto Festival, held in Trebaseleghe, Italy, from September 25th to October 4th.
Previously, The Chicken had also won Best Short Film at the Batumi International Art House Film Festival in Georgia, held from September 13th to 20th. It is noteworthy that, in Batumi, Joachim Fjelstrup won Best Actor for his role in the Danish-Croatian minority co-production Itsi Bitsi.
Furthermore, The Chicken won the Bronze Award (La Mer de Bronze) at the Best of International Short Films Festival in La Ciotat, France, September 11th to 13th. It also won Best Short Film at the Duhok International Film Festival, held from September 9th to 16th in the Kurdistan Region. Una Gunjak was awarded Best Director at the 8th Bueu International Short film Festival, as was Raoul Brand for Best Sound. The festival ran from September 7th to 12th in Galicia, Spain. Finally, the 11th BuSho International Short Film Festival, held from September 1st to 6th in Budapest, awarded The Chicken Best Cinematography.
The Chicken was filmed in Zagreb, even though it is set in the besieged city of Sarajevo. Una Gunjak wrote and directed the film, Matthias Pilz is the cinematographer, the editor is Anja Siemens, and music is by Bernd Schurer. Mirela Lambić, Esma Alić, Iman Alibalić and Mario Knezović star in the film. Jelena Goldbach from the German production house Zak Film Productions is the producer, and the Croatian co-producer is Siniša Juričić of Nukleus Film. The Chicken was co-financed by the Croatian Audiovisual Centre and the City of Zagreb.
Photos and press material can be found here.