The 59th Pula Film Festival launched!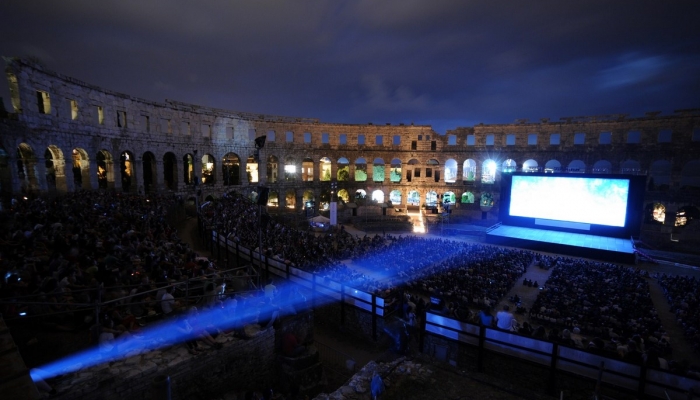 France being the Friend Country of this year's Festival, the International Programme of the Pula Film Festival was opened with the French film Farewell, My Queen on July 14. The French ambassador to the Republic of Croatia Jérôme Pasquier and the cultural attaché of the French Embassy in Zagreb Ina Pouant attended the opening ceremony.
Apart from Farewell, My Queen, the citizens of Pula and their guests will have an opportunity to see six more new French films as part of the France – Friends Country Programme, and five films as part of the Claude Chabrol retrospective, opened with the film Inspector Lavardin.

Actors and directors or producers of the films Atomic Age, Shun Li and the Poet, Chaos, Perfect Days and Italy: Love It, or Leave It will personally present their films in the International Programme (with a total of 18 films selected from world's biggest and most prestigious festivals) to the audience in Pula.

A jury composed of director Milčo Mančevski, actress Mirjana Karanović, and director and actor Metod Pevec, who will see the films during the Festival's second week at the Valli Cinema, will decide on the best film from this year's International Programme.

Marking the 50th anniversary of rock in Pula, on the eve of the opening of the International Programme of the 59th Pula, the bend The Light Cast held a concert. The overture of the 59th Pula Film Festival went to the exhibition She or I by Duško Marušić Čiči and the legendary bend Let 3.

The exhibition She or I, inspired by all the faces of our powerful Arena during the Festival, can be visited by August 8th, 2012, at the Valli Cinema. Under a fully starry sky Let 3 opened the gate to the Music Programme with its peculiar and unique performance.
The first festival morning started with the Morning Screenings for Children Programme. This year Pulica will offer 37 film screenings as part of the Morning Screenings, PoPular Pula, and Cartoons at Portarata. Sixty children eager for acquiring practical knowledge can attend the Professor Balthazar's Adventure Laboratory workshop.