Shooting Stars: Gracija Filipović awarded for one of most promising European talents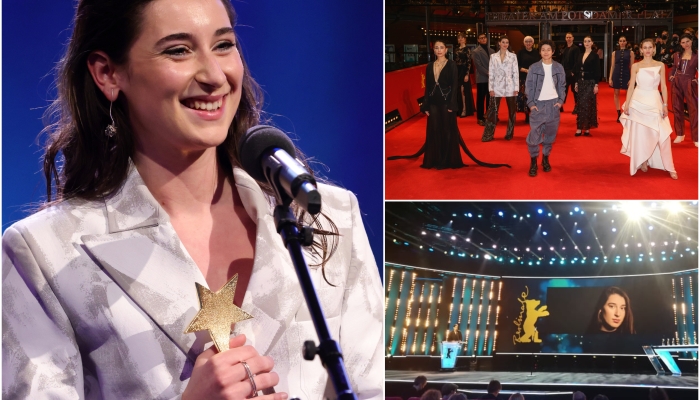 At the gala awards ceremony, held during the 71st Berlinale on Monday, 14th February, actress Gracija Filipović received the Shooting Stars Award for emerging acting talents in European cinema, bestowed annually by the European network of national film agencies – the European Film Promotion (EFP).
The Shooting Stars gala awards ceremony was held at Berlinale Palast prior to the world premiere screening of Isaki Lacuesta's Un año, una noche in the main competition. The actress in Lacuesta's film, a former Shooting Stars participant, Natalia de Molina, handed the Shooting Stars Award to ten of the most promising acting talents which included Croatian actress Gracija Filipović.
Introducing Gracija, the host of the ceremony pointed out that, in addition to being an actress she is also a swimmer, tap dancer and student of biology, asking how she manages to combine all of these seemingly contrasting activities.
"For me it is quite normal, all of these activities and skills are important to me because thanks to them I have been able to learn so much about myself and about the world, and I have gained invaluable experiences that keep me motivated, but also help me stay grounded," responded Gracija, thanking the jury for the accolade.
The event at Berlinale Palast marked the highlight of the Shooting Stars programme that alongside Gracija Filipović included the participation of nine other emerging acting talents in the European Shooting Stars 2022 programme: Marie Reuther (Denmark), Anamaria Vartolomei (France), Emilio Sakraya (Germany), Clare Dunne (Ireland), Hanna van Vliet (The Netherlands), João Nunes Monteiro (Portugal), Timon Sturbej (Slovenia), Evin Ahmad (Sweden) and Souheila Yacoub (Switzerland).
Prior to the awards ceremony, the participants spent several days at Berlinale meeting various casting directors, producers, filmmakers, journalists and other key experts in the film industry.
This year, Gracija is the youngest recipient of the Shooting Stars accolade, and one of the youngest ever to receive the recognition. She is also only the fourth Croatian actress to be selected to the programme, joining Zrinka Cvitešić (2010), Marija Škaričić (2011) and Tihana Lazović (2016), while producer Ankica Jurić Tilić was one of the members of the selection jury in 2018.
European Shooting Stars is organized by the European Film Promotion (EFP), the European network consisting of national film agencies created with the aim of joining forces to collaboratively promote European film talents around the world. For a number of years, the EFP has organized several programmes at prestigious world festivals (Cannes, Karlovy Vary, Busan, Toronto), while the Croatian Audiovisual Centre has been a member since 2009.
Some of previous Shooting Stars participants include Carey Mulligan, Alicia Vikander, Maisie Williams, Riz Ahmed, George MacKay, Domhnall Gleeson, Daniel Brühl and many others.
Cover photograph (collage): Shooting Stars Awards gala ceremony at Berlinale
(far left and top right photo courtesy of EFP; bottom right photo courtesy of HAVC)