Sara Grgurić's In the Woods awarded Best Student Film at San Sebastián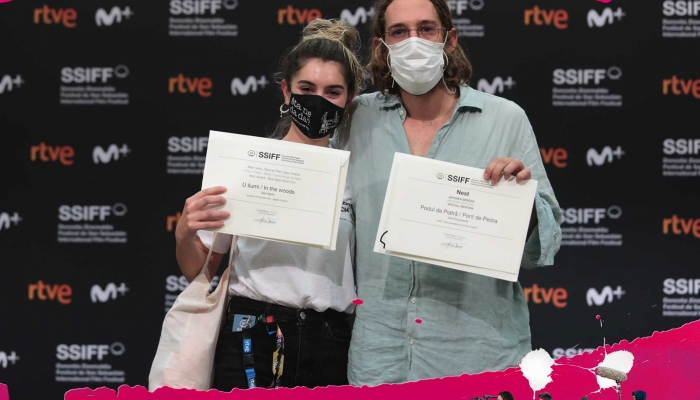 Short fiction film In the Woods, directed and written by Sara Grgurić, receives Nest Award in the student film competition at 69th San Sebastián International Film Festival.
"It was great, San Sebastián is a remarkable festival! I had a chance to meet students from different parts of the world, get acquainted with their film schools and their films, so it has been a learning experience that will be of great help with my own projects in the future. All the films were amazing, which makes this award even sweeter! It is wonderful that the films are so diverse, yet so professionally executed. I am truly happy and grateful for this award and I cannot wait to see my team and celebrate with them!" said on the occasion director Sara Grgurić. In the Woods is also screening in Rijeka, today, 24th September, at UGIN Film Garden, as part of the festival Film for Everyone, followed by another screening in Rijeka and one in Osijek.
The Nest Award jury, headed by Isabel Peña (screenwriter, Spain), alongside Jorge Cantos (director, Spain), David Pinheiro Vicente (director, Portugal) and Elsa Rosengren (director, Germany), handed out the award, which carries a 10 thousand euros cash prize, with the following statement: "Choosing not to see the person in front of you is an act of violence. Because of its complexity and its precision, because with little it tells something enormous and because since we saw it, it has stayed with us, we give the award to In the Woods." The Special Mention went to Podul de Piatrâ / Pont de Pedra by Spanish director Artur-Pol Camprubí.
This year marks the 20th anniversary of the Nest Award, one of the most important competition programmes for short films created by films school students, which is part of the San Sebastián IFF and jointly organized by the festival and the Tabakalera International Centre for Contemporary Culture. The program showcases films school works from all corners of the world as part of a strategy of promoting up-and-coming talents. The Nest section was introduced in 2002 as the International Film Schools Meeting, later renamed the International Film Students Meeting (EIECINE).
The Nest Award targets the fostering and backing of future projects produced by young students interested in mastering cinematographic language and technique. It also supports the distribution and the internationalization of the short films selected.
In the Woods is a story about Saša and Filip who travel to Gorski Kotar during lockdown. Saša finally has time to realize what she really feels. The film is directed and written by Sara Grgurić, with Frane Pamić as director of photography, Marko Klajić as editor and Dino Ljuban as sound designer. Frane Pamić also created the costume design, as well as production design, together with Sara Grgurić. The cast is headed up by Lana Meniga and Josip Ledina, with producers Mihael Šandro, Sara Grgurić and Suzana Erbežnik. The project is an Academy of Dramatic Art (Zagreb) production, done in co-production with Antitalent, having also received financial support from the Croatian Audiovisual Centre.
So far it has screened at various festivals in Croatia and abroad, scooping up the Golden Pram Award for best short film at last year's Zagreb Film Festival, as well as a special mention in the national programme 'Ješke' at the Mediterranean Film Festival Split and the Croatian Film Directors' Guild Jelena Rajković Award at Croatian Film Days this year.
The San Sebastián International Film Festival is one of the most prominent film events in the world, while more information about its 69th edition, held 17th – 25th September, may be found on its official website.
Cover photograph: Sara Grgurić and Artur-Pol Camprubí
(*photograph taken from official festival website)