REMINDER: Croatia – Invited Country at Doclisboa's Nebulae 2021: call for projects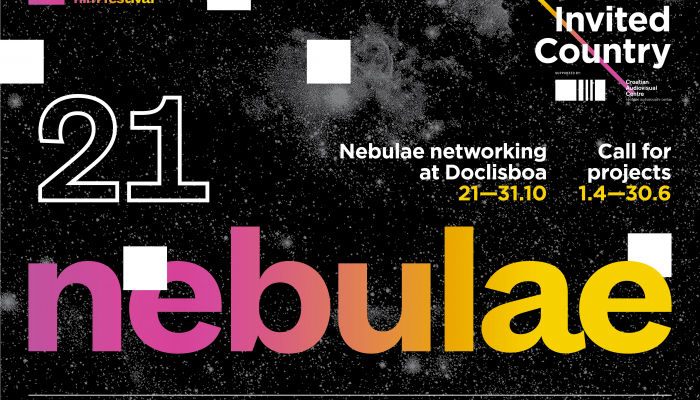 Each edition of Nebulae, the Industry Project of Doclisboa, invites a country and its film professionals. This year, with the support of the Croatian Audiovisual Centre, the Festival welcomes Croatia, with a programme of meetings, presentations and a pitching session for national projects. Applications for the pitching session will run until June 30th (GMT)/July 1st(CET).
"We are extremely pleased that Croatia has been chosen as a partner country for this year's industrial program of the renowned Doclisboa. We look forward to working with colleagues from Portugal and around the world. We are convinced that Croatian filmmakers will respond in large numbers to the invitation to participate in Nebulae and will thus use the opportunity to develop their projects, network with experts from around the world and use this experience for further continuous training, " said the CEO of the Croatian Audiovisual Center, Chris Marcich on the occasion of partnership with the Portuguese festival Doclisboa.
The programme, that in 2020 has received more than 800 guests from more than 70 countries, in an exclusively digital version, will take place in a hybrid format – with activities both online and onsite – during the festival's period. It will feature networking events for national and international participants, presentations, and a pitching session for Croatian projects in development.
The pitching session will offer a moment in which selected works in progress are presented to a wide professional audience: programmers, producers, distributors and other international film professionals will be invited.
Applications for the pitching session will run until 30 June (23:59 GMT) / 1 July (00:59 CET).
Submissions
The programme is open only to projects by Croatian filmmakers, Croatian productions and/or co-productions and is looking for projects of all lengths and in every development stage, with cinematographic qualities bringing forth, as a whole, the point of view of their authors; projects that encompass a strong implication in the domain of the real and able to experiment the potential and boundaries of its documental matrix.
Applicants must fill in the online form and send the following documents to industry@doclisboa.org:
1) A project dossier (pdf format, max. 4 pages) with the following content:
project title
synopsis
treatment
development stage
director's note
biographical note of the director and producer/house of production (if applicable)
link to former works subtitled in English
*In case of works-in-progress, a link, subtitled in English, must also be sent.
2) Motivation letter;
3) Project's previsional budget and financing plan;
4) Between 2 and 4 stills.
*Please note that only dossiers up to 4 pages will be considered.
For any queries, please contact: industry@doclisboa.org.Selected participants will be informed of the results by e-mail up to a month before the festival.
Applicants should carefully read the Regulations before submitting a project.