Red carpet protest and emotional audience response mark Butterfly Vision world premiere at Cannes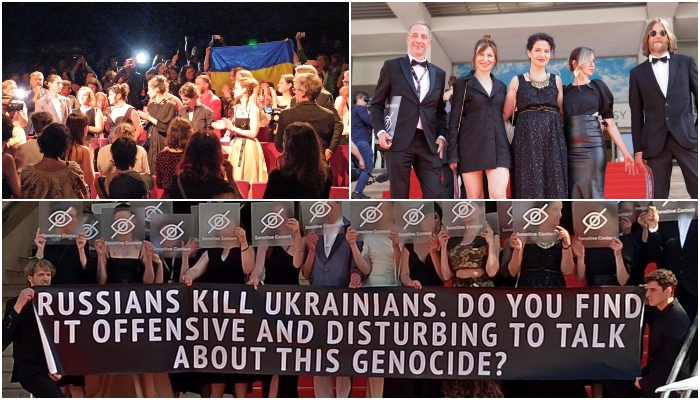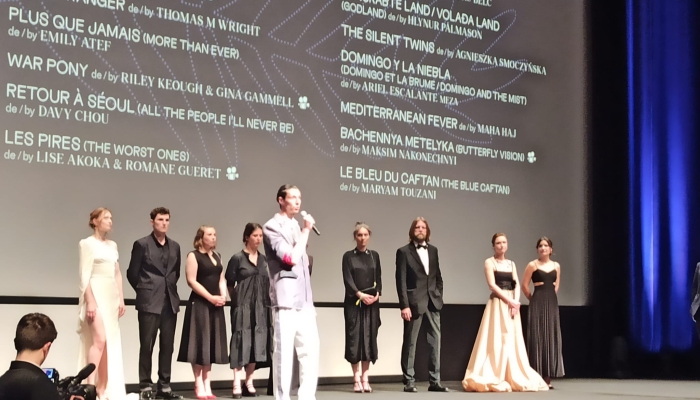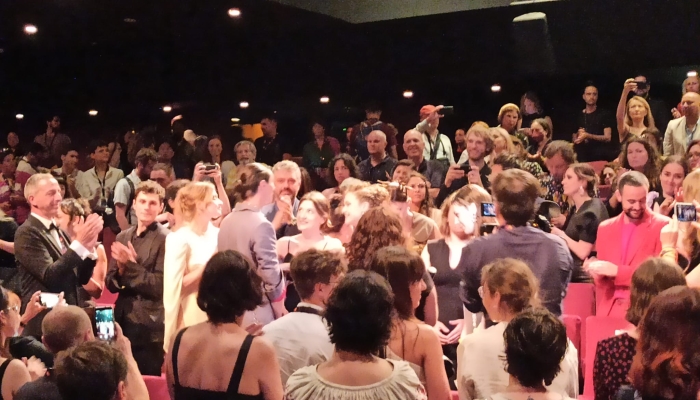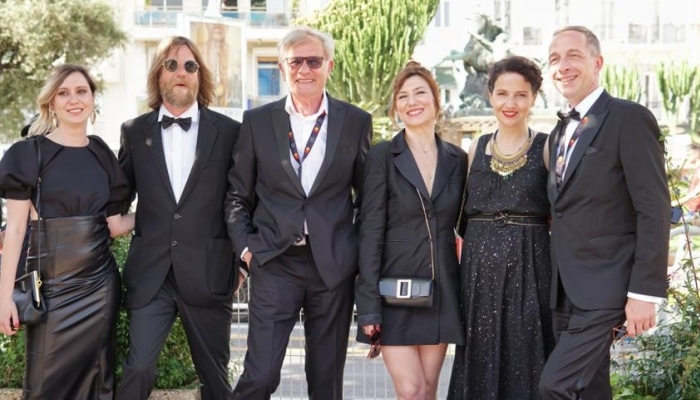 Fiction feature Butterfly Vision by Ukrainian director Maksym Nakonechnyi, which is a Croatian minority co-production, premiered at the packed Théâtre Claude Debussy, as part of the section Un Certain Regard of the 75th Cannes Film Festival. The screening was preceded by a protest against media censorship in reports about the war in Ukraine. Butterfly Vision is co-produced by 4Film, with Anita Juka as Croatian co-producer.
The audience gathered at the Théâtre Claude Debussy was greeted by Ukrainian director of Butterfly Vision, Maksym Nakonechnyi.
"While making our film, we were trying to make it a collective experience of all of us, of my co-authors and collaborators. Because, as I understood, people who have lived through something harsh definitely have a broader view, of themselves and of reality. So, let's listen to such people, take action, be united, and let the light win," said Nakonechnyi.
Ahead of the screening, the film's crew staged a protest on the red carpet against media censorship of the scenes coming from war-stricken Ukraine. Director Maksym Nakonechnyi, actress Rita Burkovska, producers Daryja Bassel and Yelizaveta Smith, along with Croatian actors Daria Lorenci Flatz and Edvin Liverić, co-producer Anita Juka and executive producer Laura Sinovčić, editor Ivor Ivezić and many other crew members stretch out a banner on the red carpet saying "Russians kill Ukrainians. Do you find it offensive or disturbing to talk about this genocide?", while holding up screens in front of their faces with a logo for "sensitive content", used for censoring photos and videos. Instead of music typically accompanying the red-carpet arrivals, the film's team chose to play the sound of air raid sirens.
The screening at the Debussy auditorium ended with a thunderous applause from the touched audience.
"I find it exceedingly important that this film has had such a success at Cannes, and it is also a huge success for 4Film and all of us who worked on it. I believe that for the Ukrainian crew members this is a small ray of hope and the entire premiere was very emotional. Edvin Liverić and I play small roles in the film, but we have grown very close to the whole crew and we have stayed in touch. Even though ours are small parts, the scene in which we appear together is important for the narrative and it made a strong impact on me," said actress Daria Lorenci Flatz.
Butterfly Vision launches its festival run with a strong tail wind, given its central story about Lilia, a military specialist who returns home after spending months imprisoned in a Russian POW camp.
Director Maksym Nakonechnyi has discussed the filming process and the inspiration for the script he penned together with Iryna Tsilyk in interviews for the Cannes FF website, as well as several other media outlets (DW, Deadline).
Besides co-producer Anita Juka, executive producer Laura Sinovčić, cast members Daria Lorenci Flatz and Edvin Liverić and editor Ivor Ivezić, Croatian film crew members included Paulina Križić (as production coordinator), Doris Dodig (as assistant editor) and Vladimir Gojun (as editing supervisor).
The film was created by Tabor Production from Ukraine, in co-production with 4Film from Croatian, MasterFilm from the Czech Republic and Sisyfos Film Production from Sweden.
Un Certain Regard, the programming section in which Butterfly Vision had its world premiere, is part of the Cannes Film Festival Official Selection and is considered the second most important competitive programme of the festival. Lunched in 1978, it traditionally focuses on titles with a unique story and visual style able to produce a lasting impact on viewers worldwide.
In addition, on Monday, 23rd May, Burning Days directed by Turkish director Emin Alper, which is another 4Film co-production, had its global premiere screening in the same programme.
This year's, 75th Cannes Film Festival runs until Saturday, 28th May.
Cover photographs: world premiere of Butterfly Vision at Cannes