Quit Staring at My Plate best film at Crossing Europe Film Festival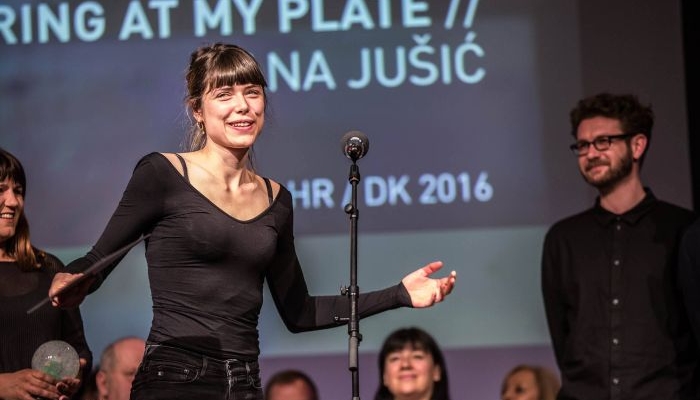 Hana Jušić's Quit Staring at My Plate won the Best Fiction Film Award at the 13th Crossing Europe International Film Festival which took place in Linz from April 25th to 30th.
'With a subtle, contagious sense of humour, and growing dramatic power, we are brought into a unique directorial vision that depicts the tenderness and cruelty of family relationships. Complex and provocative, heartfelt and energetic, it conveys the message that it's never too late to come of age.' – said the jury about Quit staring at my plate. The jury consisted of Cosima Finkbeiner, film festival coordinator from Beta Cinema (Germany), Karel Och, member of the selection board of the Karlovy Vary International Film Festival, and Andrei Tanasescue, member of the programme team of the Toronto International Film Festival. The award includes a 10 000 EUR cash prize.
Twelve films were screened in the feature film programme, and all were either debut or second films by young directors. The programme included the film House of Others by Rusudan Glurjidze, a Georgian-Russian-Spanish-Croatian co-production. The Croatian co-producer is Dario Domitrović from Embrio Productions.
Close Relations, by Vitaly Mansky, won Best Documentary. The competition included Gogita's New Life, a film by Levan Koguashvili, also co-produced by Dario Domitrović.
The Crossing Europe International Film Festival has, since 2004, been promoting contemporary films from all parts of Europe. Its aim is to be an attractive and communicative platform for young filmmakers, cineasts, and film industry representatives, offering the opportunity to enjoy film in a relaxing atmosphere. This year the festival welcomed 23 000 visitors over the span of six days where 160 films from 43 countries were screened.
For more on the festival and winners click here.
Cover photo: Hana Jušić at awards ceremony
(*photo from www.crossingeurope.at)