Men Don't Cry and Dede win at Karlovy Vary Festival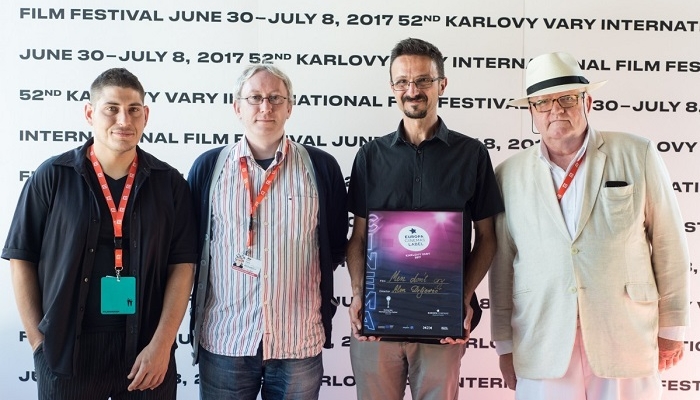 Alen Drljević's film Men Don't Cry won Special Jury Mention in the competition programme as well as the Europa Cinemas Label award for Best European Film, while Dede, by Mariam Khatchvani, won Special Jury Mention in the East of the West programme at the 52nd Karlovy Vary International Film Festival.
Both films are Croatian co-productions and had their world premieres at this year's festival.
'The jury was struck by the film's non-judgmental stance on the characters' different perspectives, brought to vivid life by its fine cast, the universality of its theme of the value of forgiveness not just of others, but of ourselves, for past actions, its relevance to Europe's future as a community, and its subtle commentary on the negative aspects of masculinity,' stated the Europa Cinemas Label jury in awarding Men Don't Cry.
Men Don't Cry is the debut feature film by the Bosnian & Herzegovinian director Alen Drljević, which depicts a group of veterans from three warring armies in the Former Yugoslav region. A peace keeping organization brings them together though no one expects them to fully get along. However, each unspoken word or misinterpreted glance can suddenly spark old conflicts. The film is written by Alen Drljević and Zoran Solomun. The cinematographer is Erol Zubčević and the editor is Vladimir Gojun. The film stars Emir Hadžihafizbegović, Leon Lučev and Boris Isaković. The Croatian co-producer is Produkcija Živa.
The feature film Dede, by Georgian director Mariam Khatchvani, is about young Dina who lives in a remote mountain village dominated by centuries old traditions. Dina's grandfather promised her hand in marriage to David who is returning from war. But breaking with order, Dina falls in love with David's handsome comrade Gegi. The Croatian co-producer is MP Film Productions.
The Karlovy Vary International Film Festival is one of the oldest and most prestigious European film festivals which screened 207 films this year. There were 505 screenings and a total of 140 067 tickets were sold. The festival hosted more than 13 000 visitors, including 617 journalists, 398 filmmakers, and 1 165 film professionals from around the globe.
Six Croatian films were screened at this year's festival: My Life Without Air by Bojana Burnać, Men Don't Cry and Dede screened in competition, while Quit Staring at My Plate by Hana Jušić, Oddsockeaters by Galina Miklínova (co-produced by Croatia's Filmosaurus Rex), and the short film Red Light by Toma Waszarow (co-produced by Croatia's Ecletica) were screened out of competition.
For more information on the festival and awards please visit the festival's official website.
Cover photo: Europa Cinemas Label award presentation to Alen Drljević and the team of Men Don't Cry