Manivald competing at 40th Clermont-Ferrand International Short Film Festival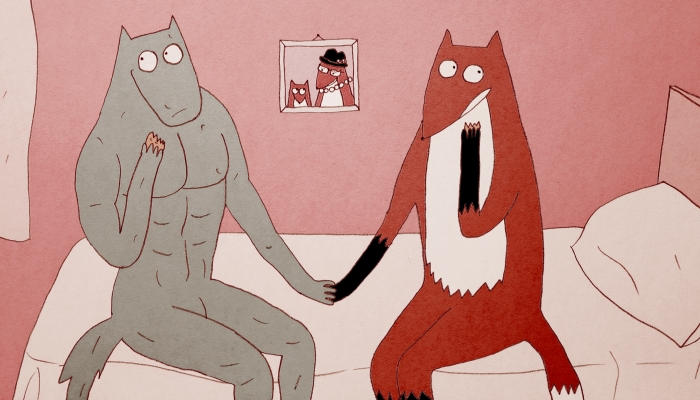 After being selected to compete at the Sundance Film Festival, Manivald will screen at yet another prestigious festival – the Clermont-Ferrand International Short Film Festival, taking place from February 2nd to 10th, 2018 in France.
Chintis Lundgren's animated film Manivald is a Canadian-Croatian-Estonian co-production. The Croatian co-producer is Draško Ivezić (Adriatic Animation) who, along with Chintis Lundgren, wrote the script. Manivald is an inexperienced fox who lives under the watchful eye of his overprotective mother. With a sudden breakdown of the washing machine, on Mandivald's 33rd birthday, their lives are interrupted by an unusual repairman, a sexy young wolf named Toomas. Soon, a love triangle develops and things get out of control. To date, Manivald has screened at numerous film festivals around the world and has received many awards and prizes. Manivald won Best Croatian Film at this year's Animafest.
'I am incredibly honored and happy that Manivald will screen in the short film competition at Clermont-Ferrand. This is the best news after Sundance, considering that none of my previous films have ever been selected into this prestigious festival. This news just encourages me to continue to develop animated TV comedies for adults for which we could receive support from the Croatian Audiovisual Centre. It is my wish that Manivald is seen by as many people as possible, and this festival only increases our chances,' said Chintis Lundgren, director, co-writer and Manivald designer.
'We are so honored to be at Clermont-Ferrand. The successes of Manivald only confirm that our hard work was worth it. Working on two different continents with teams from Estonia, Croatia and Canada where we, with Jelena Popović, have gone over these 13 minutes from every possible angle, has taught us that short film deserves concentration and dedication as much as feature length films do. I hope that this will open the doors for animated series and for both Manivald and Horror with Rabbits, which we are currently working on with support from the Croatian Audiovisual Center. The animated comedy should find a place one day on HRT (Croatian Radio Television) considering it has the kind of content that viewers like,' said Draško Ivezić, producer, co-writer and the voice of Toomas.
The 40th Clermont-Ferrand International Short Film Festival will take place from February 2nd to 10th, 2018. The festival includes three competition programmes (international, national and Lab), and also offers a rich accompanying programme.
For more on the festival please visit the official website.