Lucija Mrzljak and Morten Tšinakov's Eeva awarded at Annecy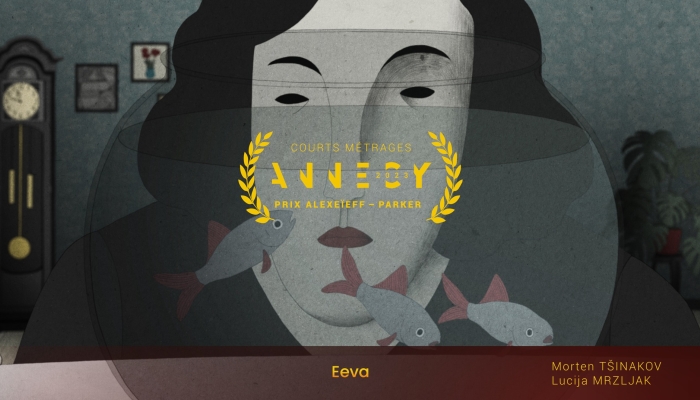 Creative duo Lucija Mrzljak and Morten Tšinakov's animated short Eeva, realised by Croatian company Adriatic Animation and Estonian studio Eesti Joonisfilm, wins the Alexeïeff – Parker Award at the 46th Annecy International Animation Film Festival, held 11th – 17th June.
"We are truly happy about the news. This is an excellent encouragement for Croatian animation and the film's creators Lucija Mrzljak and her colleague Morten Tšinakov, who penned the script. The award bears the name of the inventors of pinscreen animation so in a sense it celebrates innovation. As a studio, we are looking forward to continuing to collaborate with Lucija Mrzljak who is already hard at work on her next animated film, which she will direct on her own this time," said on the occasion of the Annecy award Eeva producer Draško Ivezić (Adriatic Animation), adding that next spring Mrzljak will be developing her new film with mentors at the International Residency for Animated Films in Fontevraud. He also adds that the project has already been supported in Estonia.
Eeva recently also scooped up the award for Best Croatian Film at the World Festival of Animated Film – Animafest Zagreb, and it is about to have its North American debut at the ShortFest in Palm Springs. So far, it has screened in competition at the Black Nights in Tallin (PÖFF Shorts) and Berlinale (Berlinale Shorts).
In addition to directing the film, Tšinakov and Mrzljak also edited, wrote (Tšinakov) and designed (Mrzljak) the film. The animations were done by Goran Stojnić and Noemi Ribić, alongside Estonian colleagues Egert Kesa and Tarmo Vaarmets. Besides Draško Ivezić, Eeva is produced by Kelav Tamm for the Estonian studio Eesti Joonisfilm.
Besides Eeva, four other Croatian titles appeared in competition programmes at Annecy: Martina Meštrović's Her Dress for the Final, Under Cover created by Darian Bakliža, Vuk Jeremović's 11, as well as Remember How I Used to Ride a White Horse created by duo Ivana Bošnjak Volda and Thomas Johnson Volda.
The list of all award winning titles at the 46th Annecy International Animation Film Festival is available on the festival's official website.