'How can WE do it?': Secrets to successful European film distribution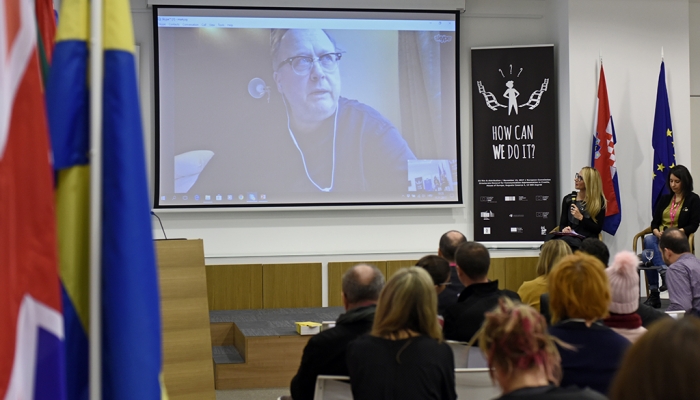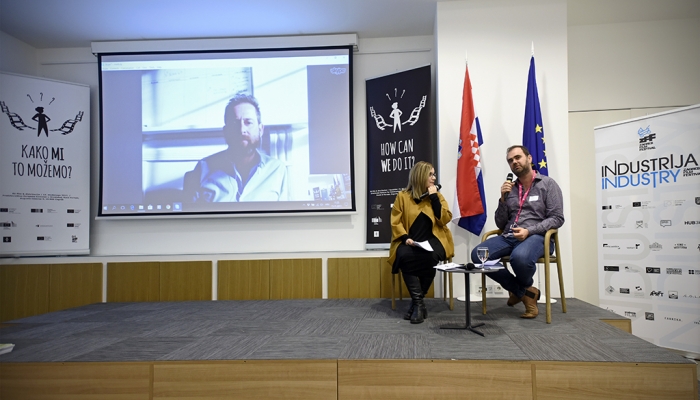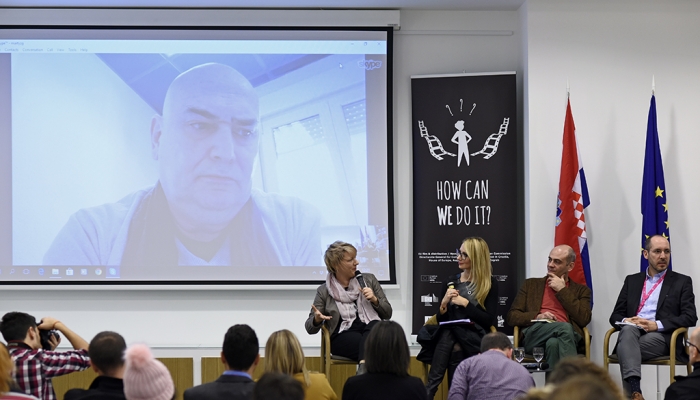 As a part of the 15th Zagreb Film Festival, Creative Europe – MEDIA Desk Croatia organized the event 'How can WE do it?' on Wednesday, November 15th, at Europe House, Zagreb. The focus was on the distribution of European film, how to go beyond the routine, usual norms of thought, how to adapt to trends and innovations within the possibilities of digital distribution, how to learn from one another and what are the advantages and pitfalls of a film coming from a large, medium or small country.
Martina Petrović, head of Creative Europe – MEDIA Desk Croatia, pointed out, in her introduction, that approximately 42 million EUR has been provided by MEDIA Sub-programme for European film distribution from 2014 to 2020 through calls based on automatic, selective online distribution as well as a support system for sales agents. But only few European films have successfully stood out, have been more visible than others.
Distribution of Prevenge (Great Britain) and Toni Erdmann (Germany)
Participants in the first panel agreed that each film has its challenges, no matter if it is in English or comes from a country with high production capacity, and that each distributer and cinema operator battles with new technologies (tablets, streaming services, etc.) to attract viewers.
The vice-president of NFP Marketing & Distribution, Christoph Ott, who distributed last year's German success Toni Erdmann, directed by Maren Ade, noted that there is a stereotype that German comedy cannot draw a wider public, but Toni Erdmann was successful due to comedy that was not basic. Ott also said that the film being 162 minutes in length was a challenge for distribution, and so it was screened in theatres in summer, when there are fewer films on the repertoire and when cinema operators could afford a minimum of four weeks distribution. Soon the film was known by 'word of mouth', Ott said, and successfully generated 4 million EUR in ticket sales in Germany. Ott also stated that premiering at Cannes ensured media presence, and as a distributor he was faced with the challenge of keeping the public's interest sparked from the end of the festival to the beginning of distribution. He assessed that one of the major issues in Germany is that there are 10 to 15 new films released every weekend, with 15 to 20 screening copies each, and it is extremely difficult to release a film unless it is a blockbuster or comedy with a large number of screening copies.
Caroline Stern, president of the consulting firm Canoe Film, with reference to consulting producers on project development, financial strategies and distribution, emphasized that film is a creative process which enters into commercial space through distribution and depends on the supply and demand, and that many films find it difficult to be noticed. She also commented on whether a film can be sold and distributed with 'ease', using examples of three films she represented – Prevenge by Alice Lowe, Mum's List by Niall Johnson and Much Ado about Nothing by Joss Whedon. For each film, Stern said, it was important to consider its specifics, but also to think about the target audience. Thanks to a well thought out marketing campaign, positive critiques and festival appearances, Prevenge was successful in Great Britain, but that was not enough to release the film successfully in the United States. A similar situation happened with Mum's List: the film was well received by critics in Great Britain and opened on 125 screens, but made more money from DVD sales (7th in the week around Mother's Day) than from ticket sales. Much Ado about Nothing, directed by Joss Whedon, who also directed The Avengers, is an example of how difficult it is to distribute a film even if it's by a world-renowned director. The black-and-white film, a contemporary adaptation of Shakespeare, was not successful at cinemas because there was no target audience and the film was mostly viewed by art-house enthusiast and Whedon fans.
Case study: The Young Offenders (Ireland) – does 'at home' success guarantee international success?
The second panel, moderated by Morana Komljenović, discussed the successful example of The Young Offenders, an Irish film by Peter Foott, shot in Cork. The producers, Cormac Fox (Vico Films) and Patrick O'Neill, director of Wildcard Distribution (Ireland), stated that even though initially the film had a very small budget (60 000 EUR) the distributer was involved in production from the very beginning. The film is about a story that was very popular in Cork for a time, about a package of cocaine lost at sea which people searched for intensively. The film generated interest from Netflix and national television in the pre-production phase.
After successful screenings and festival awards, the film went on to be screened in cinemas and achieved the highest box office results of any Irish film in Ireland. The formula for success, as Fox and O'Neill explained, is the marketing campaign which began a year before the film was to be released in cinemas, as well as a closed screening in Cork organized for approximately 200 viewers a few days before the film was set for release, which generated addition public interest. Fox says that the small budget forced the producers to use unconventional methods. For example, casting was done by asking locals to send in audition videos, and promotion was carried out through social media and online marketing instead of TV commercials and print media.
The project's success was crowned with six episodes based on the film which, after being screened in cinemas, was ordered by the BBC. Fox and O'Neill concluded that their success was due to preparation and an individual approach to both the media and the public, and that the advantage in this project was that they had more than enough time to thoroughly think through each step of the promotion process.
Visibility, sales and international film distribution: The Constitution (Croatia) and Western (Bulgaria)
Martina Petrović moderated the third panel which discussed the importance of official selection at international festivals for films that come from countries with a low production capacity using the examples of The Constitution by Rajko Grlić and the Bulgarian film Western by Valeska Grisebach.
Antonio Saura, director of the international distribution agency Latido Films, who sold Grlić's film in more than 30 countries, noted that in distribution the story is always important. He recognised that the events in The Constitution could happen anywhere because the film is about questions of suppressed homosexuality and nationalism. But it was important to identify which international audience will watch the film – primarily those interested in such themes. That is why the trailers for domestic and international audiences are very different, Saura explained.
Maja Vukić, the film's producer, noted that Latido Films was involved in the film from the screenwriting phase, and that their cooperation helped to secure funding from MEDIA Sub-programme and Eurimages. The film went on to win numerous festival awards which is important to the success and visibility of the film, especially in the domestic and regional market.
Borislav Chouchkov, co-producer of Western which premiered in the Un Certain Regard programme at the Cannes Film Festival, said that they secured a sales representative in the early phase of the project. Had Western not been selected in Cannes and Toronto we would not have successfully sold it to 30 countries, Chouchkov said. He emphasized the importance of festival selection; the Greek film Son of Sofia waited nearly a year before it was selected into the programme of the Tribeca Film Festival.
Kamen Balkanski, assistant director of the Bulgarian National Film Centre and head of MEDIA Desk Bulgaria, said that within the Centre's framework, support for selective distribution of majority and minority Bulgarian co-productions, as well as European films, is secured and totals approximately 10% of the Centre's budget.
Cover photos: participants in first panel discussion (from left to right: Christoph Ott; Martina Petrović and Caroline Stern); participants in second panel discussion (from left to right: Patrick O'Neill; Morana Komljenović; Cormac Fox); participants in third panel discussion (from left to right: Antonio Saura; Maja Vukić; Martina Petrović; Borislav Chouchkov and Kamen Balkanski); all panelists at 'How can WE do it?'; programme
(*Photo Credit: Nina Đurđević)