Goran Dević's film awarded at the 12th Beldocs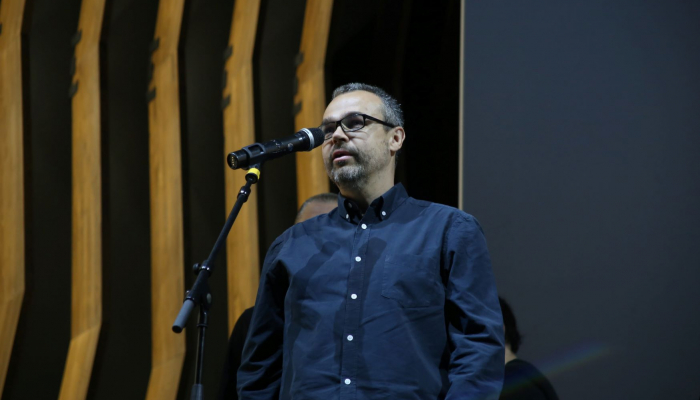 As part of the short film selection at this year's edition of the festival, the best film was selected by a jury comprised of: Aron Sekelj (director), Antigoni Papantoni (coordinator of the industry program Visions du Réela) and Eroll Bilibani (producer and head of DokuLab at the Prizren DokuFest). By a unanimous decision, the Croatian author Goran Dević was awarded for his film In the Name of the Republic of Croatia.
The film follows Marko Francišković in his attempt to present a radical political program and the judicial and psychiatric repercussion that followed after this political activism. The screening at Beldocs was at the same time its international premiere, and the author himself was a guest at the festival.
'It's a daring, raw, elegantly witty, deliberately structured but above all noble approach taken by the author to depict a determined but inadequate protagonist and his struggle, with which we inevitably identify with.' states the jury in their explanation.
Upon receiving the award, Goran Dević said: 'I'm very happy and satisfied because I make movies primarily for us, people who live in this area. When a film of mine is accepted and recognised in an area important to me, all the struggle which the film was created with becomes irrelevant. A big thanks to Beldocs who gave us the opportunity to show the film.'
A Lua Platz, a film about a Romanian family searching for their place under the sun in a suburb of Paris, by the Frenchman Jérémy Gravayat was declared the best documentary film in the international competition. The Centre by Ivan Marković celebrated in the Serbian competition program. It is an abstract portrait of the Sava Centre whose survival, similar to many other monumental buildings from the Yugoslav age, has been brought into question.
This year's 12th International Festival of Documentary Film Beldocs was held from 8 to 15 May in Belgrade. It was closed with an award ceremony celebrating the best documentary achievements and the premiere screening of the film Electric Orgasm for Future Generation by the Serbian author Marija Vukić.
You can find more details on the official festival website.
Cover photography: Goran Dević at Beldocs