God Exists, Her Name Is Petrunya wins the European Parliament's 2019 LUX Film Prize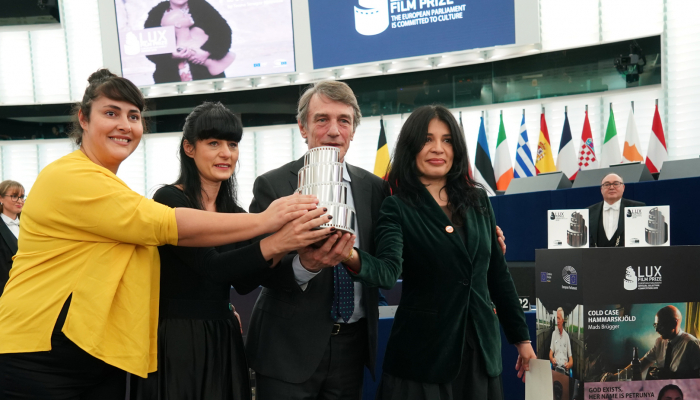 Croatian minority co-production God Exists, Her Name Is Petrunya by director Teona Strugar Mitevska (Croatian co-producer is Zdenka Gold, Spiritus Movens) has won the prestigious 13th LUX Film Prize awarded by the European Parliament.
Today, on 27th November, European Parliament President David Maria Sassoli presented the award to the film team in Strasbourg.
'It is not always easy to deal with the complexities of our daily work without getting caught up in the technicalities of parliamentary activities. We must also be able to communicate emotions and use new languages. The LUX Prize provides us with an extraordinary tool to accompany us in this endeavour. We must seize the opportunity to examine issues such as immigration, the right to healthcare, feminism and political ethics through the films showcased by the LUX Prize. Tackling the climate emergency, our colonial past, or discussing our model of society through cinema is a stimulating challenge that must be encouraged. We are the only Parliament in the world that awards a film prize. Let us be proud of it!', Sassoli said on that occasion.
In her acceptance speech, Macedonian director Teona Strugar Mitevska pointed out that she was always criticized by the politicians in her country because her films were ˈtoo politicalˈ.
'It is true. I am an author interested in social deviations. I think it's my duty to raise my voice to speak about problems that nobody else dares to speak about. How can we build a better future if we don't dare to speak about the problemsˈ, she said.
Even the Croatian producer of the film, Zdenka Gold (Spiritus Movens) could not hide her emotions for winning the LUX Prize.
'I would like to congratulate the whole film crew, and I am particularly proud of the Croatian part of the team. Congratulations, from the heart, to all of you, and a huge thank you to all who supported us financially! Soon, the film will screen in cinemas across Croatia. Don't miss it!ˈ
Feature-length film God Exists, Her Name is Petrunya has been made in Macedonian-Belgian-Slovenian-Croatian-French coproduction. The film premiered at this year's Berlinale Festival scooping two best film awards (Ecumenical Jury Award and Guild Film Award). At the recently held International Film Festival in Cairo, it won the Best European Film Award given by the critics from 13 Arab countries (Arab Critics' Awards for European Films).
The other two films shortlisted for the 13th LUX Prize, which promotes abundance, diversity and excellence of the European film, were Cold Case Hammarskjöld directed by Mads Brügger (a Danish-Norwegian-Swedish-Belgian co-production) and The Realm directed by Rodrigo Sorogoyen (a Spanish-French co-production). All three films have been translated into 24 official languages of the European Union and screened in more than 50 cities in 28 countries as part of the LUX Film Days organized by the European Parliament in collaboration with MEDIA Offices of the Creative Europe Programme.
Cover photograph: Film crew of God Exists, Her Name Is Petrunya with the President of the European Parliament, David Maria Sassoli
(*photograph source: website europarl.europa.eu)