God Exists, Her Name is Petrunija and Stitches awarded in Berlin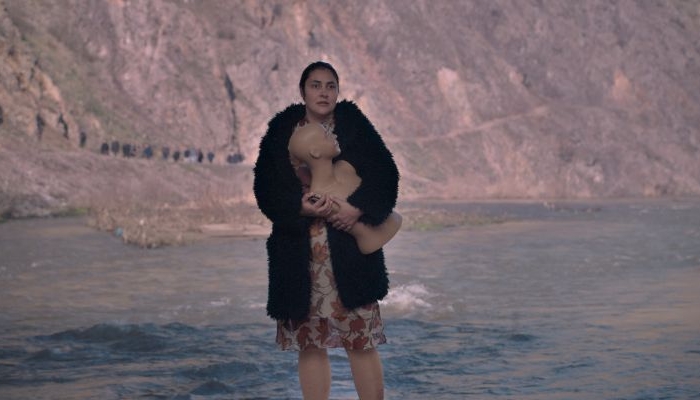 Both films, minority Croatian co-productions (Croatian co-producer – Spiritus Movens) returned from the recently held 69th Berlin International Film Festival with two awards each.
God Exists, Her Name is Petrunija by Macedonian director Teona Strugar Mitevski screened in the main competition, and the independent, ecumenical jury awarded the film for 'its daring portrayal of the transformation of a disempowered young woman into an outspoken defender of women's rights. When Petrunija spontaneously joins in an Orthodox Church ritual for young men by catching a cross thrown into a river by a priest, she breaks church and social traditions. Her initial refusal to return the cross unleashes her inner strength in the face of institutional conventions and reveals God within her.'
The film also received the Guild Film Award. The jury is composed of three members who run cinemas and are members of the association of German Art House Cinemas.
God Exists, Her Name is Petrunija is a Macedonian-Belgian-Slovenian-Croatian-French co-production, and besides co-producer Zdenka Gold (Spiritus Movens) other Croatian industry pros that worked on the film include actors Ljiljana Bogojević and Mario Knezović, tone recorder Hrvoje Petek, boomer Vilim Novosel, key grip Josip Matušić, crew member Branko Cavrić, electrician Dario Laljek, art director Željka Burić, and casting director Marina Redžepović.
The main competition also featured the world premiere of I Was at Home, but by German director Angela Schanelec. The film won a Silver Bear for best director. It is a German-Serbian co-production (Nachmittagfilm and Dart Film & Video), and was partially shot on location in Istria in the town of Slum, as well as in Učka National Park. Croatian members of the team include: executive producer Tibor Keser, tone recorder Hrvoje Radnić, production assistant Jan Herenčić, while production services were provided by Paradoks (Zagreb). The film was supported by the Istrian Film Commission and the Municipality of Lanišće. The film is about a 13 year-old boy who disappears for a week. Upon his return, the boy either doesn't know or doesn't want to explain what he was looking for and where he's been. His mother and teachers assume that he ran away upon his father's death, but the boy's behaviour doesn't fully support this theory…
The feature film Stitches by Serbian director Miroslav Terzić is a Serbian-Slovenian-Croatian-Bosnian co-production. The film won the Europa Cinema Labels Award for best European film in the Panorama programme. The jury stated that Stitches is 'a great example of the power of film: excellent direction, cinematography, script, editing and outstanding performances.'
The film also came in second for the Audience Award. Gabi Novak sang the closing song for Stitches, a film about newborns disappearing from hospitals in Belgrade who for years, as stated by hundreds of parents, were pronounced dead, but in reality were sold off for adoption. The script is by Elma Tataragić, the cinematographer is Damjan Radovanović, the editor is Milena Z. Petrović, while music is by Aleksandra Kovač. The Croatian co-producer is Zdenka Gold (Spiritus Movens), and alongside her, Croatian members of the team included: art director Ana Buljan, Zoran Vujić, actress Ksenija Marinković, production assistant Branka Rušnov and many others. The film is produced by Uliks Fehmiu and Milena Trobozić Garfield (West End Production – Serbia), and has received financial support from Eurimages.
The 69th Berlin International Film Festival was held from February 7th to 17th, 2019. The Golden Bear for best film went to Synonyms by Israeli director Nadav Lapid. The Silver Bear for best actress went to Yong Mei for her role in So Long, My Son by director Wang Xiaoshuai, while best actor went to Wang Jingchun for his role in the same film. The international jury was headed by Juliette Binoche, with members Justin Chang, Sandra Hüller, Sebastián Lelio, Rajendra Roy and Trudie Styler.
Cover photos: scenes from God Exists, Her Name is Petrunia and Stitches.