Focus on Croatian animation, latest films, one project at 17th Animateka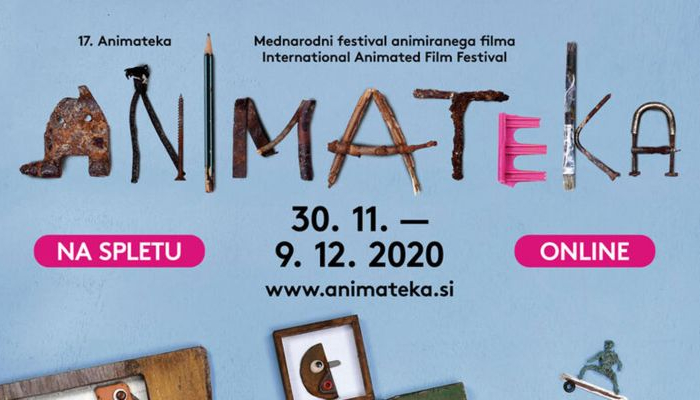 The focus programme 'Croatia Visiting', organized in cooperation with the Croatian Audiovisual Centre, brings a series of films, panel discussions and projects to this year's online edition of Animateka in Ljubljana. In addition, the International Animated Film Festival, held 30th Nov – 9th Dec, will feature a series of Croatian films screening in various competition and non-competition progrmmes, while one Croatian project will also appear in the industry section, AnimatekaPRO.
Croatia Visiting
Every year, Animateka organizers take a closer look at the creativity of a certain country or region in order to bring the imagination of their artists closer to the Slovenian audience by discovering new authorial poetics and the transfer of knowledge in the field of production. This year, the programme 'Croatia Visiting', created in cooperation with the Croatian Audiovisual Centre (HAVC), will shine a spotlight on Croatian animated film. Part of the programme will appear in the online edition of the festival, while the rest will screen at the Slovenian Cinematheque, when this becomes possible once again.
Animateka's online edition will feature two programmes: A Historical Rundown and Professor Balthazar.
A Historical Rundown, which offers a journey across the last 70 years of Croatian animated films, will present the following titles: Don Quixote by Vladimir Kristl (Zagreb film), The Substitute by Dušan Vukotić (Zagreb film), Simon Bogojević Narath's Plasticat (Kenges), She Who Measures by Veljko Popović (Kenges), Miramare by Michaela Müller (Academy of Fine Arts in Zagreb), Petra Zlonoga's Hunger (Bonobostudio) and Imbued Life created by Ivana Bošnjak and Thomas Johnson (Bonobostudio).
The Professor Balthazar featurette will include five episodes from the first season of the animated series created by Zlatko Grgić about the eponymous friendly scientist who solves the conundrums of his fellow townspeople with the help of imagination and positive energy.
Details about both programmes are available here.
Latest films and one project at 17th Animateka
The main competition programmes I, II, III and IV will feature four Croatian titles and one minority co-production: Natko Stipaničev's Arka (Kreativni sindikat), Marko Dješka's All Those Sensations In My Belly (Adriatic Animation), The Adventures of Gloria Scott – Murder in the Cathedral by Matija Pisačić and Tvrtko Rašpolić (Kinematograf), Events Meant To Be Forgotten by Marko Tadić (Kreativni sindikat) and Aleta Rajič's Natural Selection (Studio Neum, Zagreb Film).
The competition program entitled European Young Talents III and IV will present Cockpera by Kata Gugić (Academy of Fine Arts in Zagreb) and Sunčana Brkulj's short The Tower (Academy of Fine Arts in Zagreb).
Meanwhile, the Eastern and Central European Panorama I, dedicated to showcasing the technical knowhow and artistic potential of animated shorts, will present four titles created at the Academy of Fine Arts in Zagreb: Mirta Brkulj's The Maquis, Leon Aksin's Clumsy Efforts, Larisa Smitran's T.i.c. and Healthmakers directed by Sara Jurić.
Vatroslav Mimica's The Inspector is Back, a 1959 Zagreb Film production, will screen at the festival's opening and it is part of the programme featuring short animated films selected by this year's international jury.
One of the members of the main jury is Dalibor Barić, whose animated feature Accidental Luxuriance of the Translucent Watery Rebus is included in Animateka's feature film programme.
A Demonstration of Brilliance in Four Acts, created by Lucija Mrzljak and Morten Tšinakov has been selected to appear in the CEE Animation Talents programme intended for the promotion and alternative distribution of films by the most talented young animation filmmakers from Central and Eastern Europe.
In addition, as part of the focus programme 'Croatia Visiting,' a series of Croatian film professionals will likewise participate in the industry section of the festival - AnimatekaPRO. A round table on the state of Croatian animation in practice will include producers Vanja Andrijević (Bonobostudio), Draško Ivezić (Adriatic Animation), Andrijana Vidaček (Zagreb Film) and Croatian Audiovisual Centre artistic advisor Miljenka Čogelja. Croatian Audiovisual Centre CEO Chris Marcich will offer the introductory remarks, while Igor Prassel will moderate the panel. The festival day reserved for extended and hybrid animation will offer a case study on the hybrid short, Microcassette – The Smallest Cassette I've Ever Seen, introduced by the authors of the film Igor Bezinović and Ivana Pipal. In the programme devoted to VR animation, Manu Weiss will host a talk with Milivoj and Veljko Popović, directors and producers of animated films from Lemonade3d, a digital studio based in Split.
The AnimatekaPRO Pitch platform, held during the festival on Dec 1st, will include presentations of six projects from ex-Yu countries, including one from Croatia. The project entitled Butterfly is created by director Sunčana Brkulj and producers Laura Martinović and Hana Tintor (Adriatic Animation). The film, shot in a single take, revolves around a tiny garden community that survives a major crisis and learns from the experience.
The jury, comprised of Anna Vašová, Luce Grosjean and Maja Zupanc, will assess the projects and provide feedback to the authors to help guide them in the next phase of film development. Two team members of the winning project will receive an invitation to participate in the CEE Animation Forum 2021. A list of all selected projects, as well as more details about AnimatekaPRO Pitch are available on the following link.
Animateka – International Animated Film Festival, held in Ljubljana, Slovenia, showcases the latest animated shorts from Central and Eastern Europe. It was founded in 2004 as an extension of the monthly animated film programme of the Slovenian Cinematheque curated by programme director Igor Prassel.
For more information about Animateka, this year held entirely online, 30th Nov – 9th Dec, please visit the festival's official website.