Flower Square by Krsto Papić in Croatian cinemas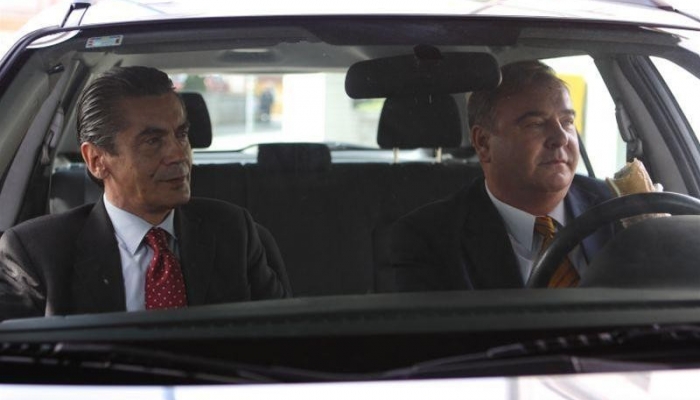 Flower Square, the last film by the recently departed classic of Croatian cinema Krsto Papić, starts regular cinema distribution. Flower Square is a crime thriller about a Zagreb family which found itself in a cross-fire between the police and the mafia. The film was co-funded by the Croatian Audiovisual Centre.
The protagonist of Flower Square is Filip Kapec (Dražen Kühn), an actor from the puppet theatre blackmailed by the police to do them an unusual favour. Filip is supposed to dress like a priest and confess Macko (Mladen Vulić), the mafia boss, who believes he is about to die, and deliver the police the information about his criminal activities.

Flower Square was based on Mate Matišić's play Baloon and Krsto Papić's documentary film Citizens in Flower Square, presented at ZagrebDox 2011. The film was inspired by a real-life story, a murder case of Zoran Domini from 1999, who lost his life as a collateral victim in a murder attempt in Zagreb's Flower Square.

The cast includes Dražen Kühn, Dragan Despot, Mladen Vulić, Anja Šovagović-Despot, Marija Škaričić, Matija Prskalo, Goran Grgić, Ivica Zadro and many others. The screenwriter and music composer was Mate Matišić, director of photography Branko Cahun, editor Robert Lisjak, set designer Mario Ivezić and costume designer Lena Andrijević. The film was also produced by Krsto Papić within Ozana Film production company, co-produced by the Croatian Radio and Television, and co-funded by the Croatian Audiovisual Centre.

Late in 2012 the film had its international pre-opening at Montreal World Film festival 2012, where it won the Freedom of Speech Award for the most daring film at the festival.

High-resolution film stills are available on this link.