First electronic soundtrack from Yugoslavia remixed by 11 artists from 9 countries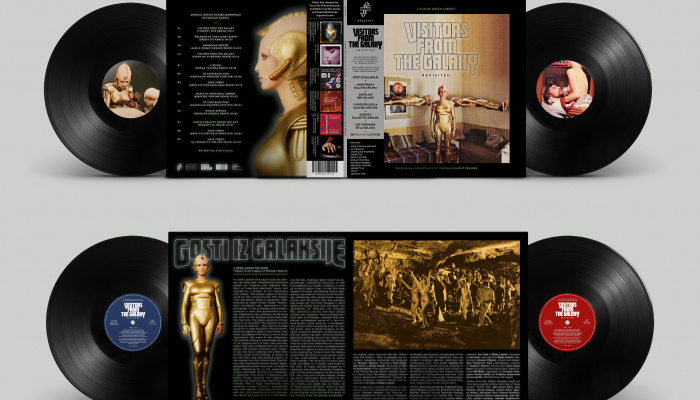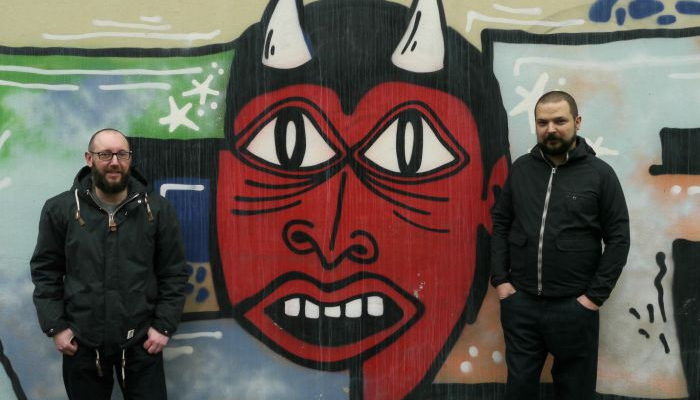 Oscar winning director Dušan Vukotić made first science-fiction film in Yugoslavia in 1981. While receiving a modest critical reception at the date of release, Visitors from the Galaxy gained a huge response from the audience which culminated in recent years with a proper and growing cult following. The groundbreaking electronic soundtrack by composer Tomislav Simović was also first in its own genre: never before the complete score was done entirely using electronic equipment in a combination of melodic and experimental style. Croatian label Fox & His Friends Records released restored edition of original score five years ago. It was their debut on the label scene and marked their journey on a discovery of long forgotten and lost classics.
As a tribute to a composer Tomislav Simović, who also did worldwide known Professor Balthazar cartoon series score and more than 300 other films, the Fox & His Friends label bosses Leri Ahel (Mutant Disco Radio Show) and Željko Luketić (film and music critic and curator) decided to call the best of contemporary musicians to do their reworkings, remixes and reinventions on the Simovic original. Every artist, 11 of them from 9 countries, answered with a firm 'It's a yes from me!' and embarked on musical journey that included not only original soundtrack from Visitors from the Galaxy, but also additional sounds from the Tomislav Simović sound archive used in Vukotić film. The result is amazing collection of 13 musical pieces that go to a variety of electronic genres: IDM, techno, acid, leftfield and ambient. More importantly, the new collection of reworkings called Visitors from the Galaxy Revisited, plays as a compact whole in its entirety. It works on different levels – as a soundtrack album, a DJ friendly clubbing wax and album for home listening full of unexpected sound twists and sonic surprises. This is truly a genre breaker that can make your home a club or your club a distant planet in a strange East European sci-fi cult classic.
Thanks to the involved artists Fox & His Friends Records continue to break the rules and receive, as composer Tomislav Simović and director Dušan Vukotić already did, a tribute to the hard work of finding, restoring and releasing the hidden gems from the history of ex-Yugoslavian music. Alen & Nenad Sinkauz (Croatia), Ali Renault (United Kingdom), Anatolian Weapons (Greece), Credit 00 (Germany), Drvg Cvltvre (Netherlands), Goran Vejvoda (France / USA), Heinrich Dressel (Italy), Repeated Viewing (United Kingdom), Security DJ (France), Tapan (Serbia) and Timothy Fife (USA) spared no time and their talent to pay a homage to Tomislav Simovic in a truly unique way of new analogue, abstract, electronic and synthesized dance floor friendly music. Similar compilations are rare: Steve Reich, Ennio Morricone and Peter Thomas Orchestra are some of the most famous ones who received similar treatment, making this mammoth project worth attention and careful listening. Tomislav Simović, who sadly died in 2014, is also the first composer from ex-Yugoslavia region to be recognised among contemporary international electronic musicians as someone to be inspired with.
Visitors from the Galaxy Revisited comes in limited edition 2 x LP vinyl with 13 remixes and more than 78 minutes of music. Stunning gatefold double colour sleeve contains exclusive photographs from the film, extensive liner notes and japanese style OBI strip. All original tracks from Visitors From The Galaxy are available on FOX001LP Visitors From The Galaxy – Original Motion Picture Soundtrack via worldwide distribution by Clone or directly from the label and on bandcamp. This remix double LP is also available there, as the other releases from the Fox & His Friends label.
Cover photographs: soundtrack cover; Željko Luketić i Leri Ahel (*foto by Igor Lekšić)