Croatian minority co-production Four Seasons in a Day awarded at Hot Docs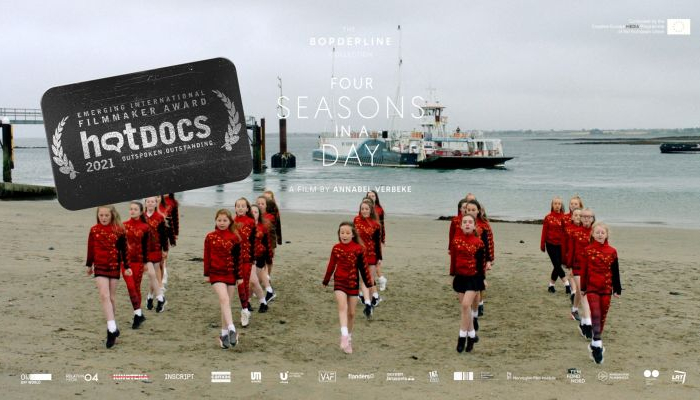 Annabel Verbeke, Belgian director of Four Seasons in a Day, which is a Croatian minority co-production, returns from Hot Docs with the Award for best Emerging International Filmmaker. Croatian co-producer is Ljubo Zdjelarević (Kinoteka).
"Collaborating on this project was an exceptional experience and I am truly honoured and delighted that the jury has recognized and awarded our film, especially since Hot Docs is one of the most important documentary festivals in the world. I believe this award will provide an exceptional boost, not only for the film's development and future trajectory, but also for its co-production partners, the creative team, and most of all for Anabel, of course. 'Four Seasons in a Day' continues its festival journey and it has already received invitations from festivals in the Far East, in China and South Korea, so, depending on the epidemiological situation and distribution plans for the other films in the Borderline series, we hope to have a small, limited cinema distribution in Croatia, simultaneous to TV and VOD. It would be amazing if we succeeded in this," said on the occasion Croatian series co-producer Ljubo Zdjelarević.
This year, rather than in Toronto, the Hot Docs Canadian International Documentary Festival was held in digital format, 29th April – 9th May. For Four Seasons in a Day, screening in the main international competition International Spectrum, this was the world premiere, while the jury conferred the Emerging International Filmmaker Award on Annabel Verbeke with the following statement: "In only her second feature documentary, the director already shows mastery of the verité craft in this film which unveils itself to be more complex and universal than it first appears." The award also includes a cash prize of a $3,000.
Four Seasons in a Day problematizes the newly created border post Brexit, between Northern Ireland, supervised by the United Kingdom, and the Republic of Ireland, an EU member state.
The film is part of a six-episode documentary series Borderline, created by Frederik Nicolai, about the different forms, meanings and purposes of geographical borders in western society.
Borderline has received the support for TV programming from the MEDIA sub-programme and for documentary TV series development and minority co-production (for a single film in the series) from the Croatian Audiovisual Centre.
The series is produced by Frederik Nikolai and Eric Goossens (Off World, Belgija), Ljubo Zdjelarević (Kinoteka, Croatia), Karl-Emil Rikardsen (Relation 04 Media, Norway) and Lukas Trimonis (Inscript, Lithuania).
All other details about Hot Docs winners can be found on the following link, while more information about the festival is available here.