Croatian Films and Projects at 16th Animateka Festival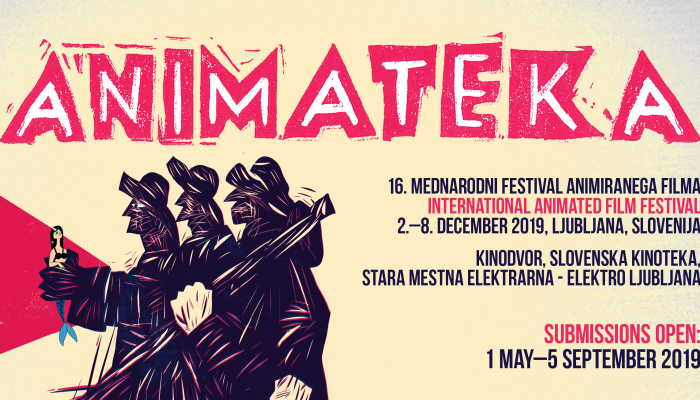 A number of Croatian short films will screen at the 16th edition of the International Animated Film Festival Animateka which will take place in Ljubljana from 2nd to 9th December. Moreover, 2 Croatian projects will be presented in the industry platform, AnimatekaPRO.
The Middle and Eastern Europe Competition Program will feature four Croatian films and one minority coproduction: A Cat Is Always Female by Martina Meštrović and Tanja Vujasinović, Themes by Danijel Žeželj, Florigami by Iva Ćirić, Imbued Life by Ivana Bošnjak and Thomas Johnson and Toomas Beneath the Valley of the Wild Wolves by Chintis Lundgren (an Estonian-Croatian-French co-production; Croatian producer is Draško Ivezić, Adriatic Animation).
The Elephant in Competition Program intended for children (aged 3 and up) will feature Toofa and Poofa by Denis Alenti.
The European Young Talents Competition will feature the following films: Misplaced Memories by Ivana Radić and I Won't by Jasna Čagalj, and the Panorama Program: Fish Ing. by Marinsky, A Grandpa, a Kitten and Springtime by Lucija Oroz, Well, Would You Look at That by Petra Drevenšek, Spaced Out by Stella Hartman, First Step by Petra Kožar, Albatross by Nenad Janković, Grow Up to Be a Little Tree by Noemi Rebić, Smile by Matea Kovač and I'm Not Feeling Very Well by Sunčana Brkulj.
In addition, in the industry-oriented part of the Festival – AnimatekaPRO, a panel discussion will be held on how to make a successful coproduction in which Croatian producer Vanja Andrijević from Bonobostudio will participate.
In AnimatekaPRO Pitch platform, which is scheduled to take place on 2nd and 3rd December, five projects from Ex-Yugoslavia will be presented, two of which are Croatian. One of them is Fachuk (Bastard) directed by Maida Srabović and produced by Janja Pilić (Tetrabot). It is a story about an imaginary village plagued by fachuks – bastard babies. Their mothers die in childbirth and a local Reverend than absolves fachuks of 'life in sin' by throwing them into the river. Local carpenter Jozina tries to save pregnant Nadica from such a fate.
The other project is entitled The Family Portrait. The author is Lea Vidaković who will pitch it together with producer Draško Ivezić (Adriatic Animation). It is a dark, poetic and slightly humorous film dealing with breaking down and destruction of family ties. Both projects are being developed with the support of the Croatian Audiovisual Center.
The projects are in the pitching competition and two members of the winning project team will receive, among other thing, an invitation to the CEE Animation Forum 2020. You can find the list of all selected projects and more details about AnimatekaPRO Pitch on this link.
Animateka is a festival aimed at promoting new animated short film productions from Eastern and Middle Europe. It was established in 2004 as a logical continuation of the monthly program of animated films of the Slovenian Cinematheque curated by Igor Prassel, Animateka's program director. You can find more about the festival on the official website.
In addition to Animateka, the CEE Animation Workshop will also take place in Ljubljana in the period from 29 November to 5 December. Croatian producer Sanja Borčić of Zagreb Film will participate in the workshop. The CEE Animation is a year-long program organized in three modules which take place throughout the year. You can find more details about the workshop here.