Blockade Opened at ZagrebDox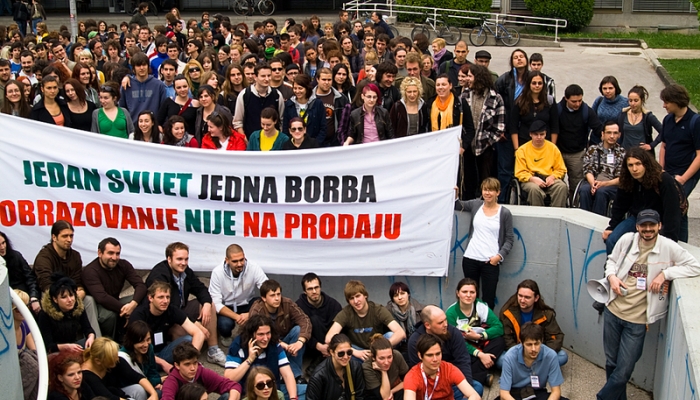 The opening of Blockade, the feature documentary film by Igor Bezinović about the blockade of the Faculty of Humanities and Social Sciences in Zagreb, took place on February 29th, at the 8th edition of ZagrebDox festival.
Blockade is a feature documentary about the events in April and May 2009, when the students occupied the building of the Faculty of Humanities and Social Sciences in Zagreb. The blockade aim was to take a stand against the changes of the Education Act and to fight for publicly funded university education. Thanks to the students' persistence and discussions it provoked, the Faculty blockade became the largest, longest and politically the most important student protest since 1971.

Blockade starts with taking over the Faculty and gives us a direct insight into the dynamic five weeks of the movement, until its conclusion in May. I personally knew most of the students who participated in the blockade from the very beginning, so cinematographer Đuro Gavran and I spontaneously began filming preparation meetings, without knowing the blockade would become the biggest and most important student protest since 1971, explained director Igor Bezinović.

When the filming was completed, the crew had over 200 hours of material that need to be edited into a feature film. The idea was to depict the events chronologically and according to the fly-on-the-wall style, meaning that we did not use interviews, title cards or off-narration. We picked out the most memorable moments from the filmed material and tried to build a story around them, continuously balancing between the characters, emotions and humour, said Bezinović.

Igor Bezinović was born in 1983 in Rijeka, and graduated in directing at the Academy of Dramatic Art in Zagreb (ADU). He made a name for himself as the author of socially involved documentary titles such as An Encounter (2009) and In Fond Memory of TDZ (2009). Blockade is his feature documentary debut that hired another three cinematographers, in addition to himself: Đuro Gavran, Eva Kraljević and Haris Berbić, while editors Hrvoslava Bukušić, Maida Srabović and Miro Manojlović tackled the 200 hours of filmed material in the editing unit. Blockade was co-produced by Factum and Restart, and co-funded by the Croatian Audiovisual Centre.

The opening of Blockade took place on February 29th at Movieplex cinema within ZagrebDox. Its second screening took place on Friday, 2 March at 8pm at D7 hall of the Faculty of Humanities and Social Sciences, where most of the pivotal events shown in the film took place.