Berlinale: Special mention from Europa Cinemas jury to On the Other Side by Zrinko Ogresta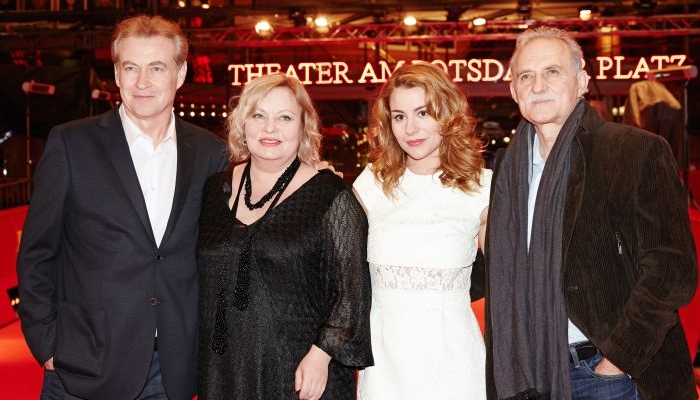 After being well-received by the audience and international critics alike, On the Other Side by Zrinko Ogresta was awarded a special mention by Europa Cinemas Label jury which rates the films of the official 'Panaroma' programme of the International Film Festival in Berlin.
Europa Cinemas is a network of 977 cinemas across 42 countries in Europe which helps to distribute European films as well as offer promotional support and financial incentives. Europa Cinemas is backed by the European Commission's MEDIA Desk, the CNC and Eurimages. The main prize went to the Belgian-French drama The First, The Last (Les Premiers, les Derniers) directed by Bouli Lanners, while special jury mention went to All of a Sudden by Aslıj Özgen and Ogresta's On the Other Side.
'Awards can be deceiving. I've received many, and have lost many. They're great on your CV, but I can't deny one thing – being awarded by the biggest festivals is a guarantee that your film will be seen around the world, and no director can say that's not important,' said Zrinko Ogresta.
Europa Cinemas Label, as a part of the Berlinale, was initiated in 2005 in order to help European films increase distribution and raise their visibility within the public and the media. This year the winners were selected by an international jury composed of: Greta Akcijonaite (Cinema Kino Pasaka, Vilnius, Lithuania), Mathias Holtz (Folkets Hus och Parker, Sweden), Gosia Kuzdra (Cinema Kino Muza, Poznan, Poland) and Torsten Raab (Puschkino, Halle, Germany).
On the Other Side had its world premiere on February 14th in Berlin, and will be screened at the 44th FEST, International Film Festival in Belgrade, on March 4th. The Croatian premiere is expected on March 6th in Split's Cinema Karaman, as a part of the 'Women's Day Weekend' programme, while two days later it will premiere in Zagreb at Cinema Europa.
On the Other Side is a tense psychological drama based on the screenplay written by Mate Matišić and Zrinko Ogresta. The story is about a nurse named Vesna who moved, with her children, to Zagreb twenty years ago, running from events that nearly destroyed their lives. After receiving and unexpected call, a secret she had been hiding all those years surfaces. The film stars Ksenija Marinković and Lazar Ristovski, while the rest of the cast includes Tihana Lazović, Robert Budak, Toni Šestan, Tena Jeić Gajski, Vinko Kraljević, Marija Tadić, Alen Liverić and others.
The crew is made up of cinematographer Branko Linta, editor Tomislav Pavlic, executive producer Maja Vukić, art director Tanja Lacko, costume designer Katarina Zaninović, make-up artist Slavica Šnur, and sound engineers Mladen Pervan, Martin Semenčić and Ivan Zelić. Ivan Maloča produced the film with Zagreb's Interfilm, in co-production with Belgrade's Zillion Films and Croatian Radio Television. On the Other Side is co-financed by the Croatian Audiovisual Centre and Film Centre Serbia.
High resolution photographs from the premiere can be found here.
(*Photo credits: Claudia Klein)
Cover photos: the team of On the Other Side