BEAST International Film Festival is back with its 4th edition including Croatian participation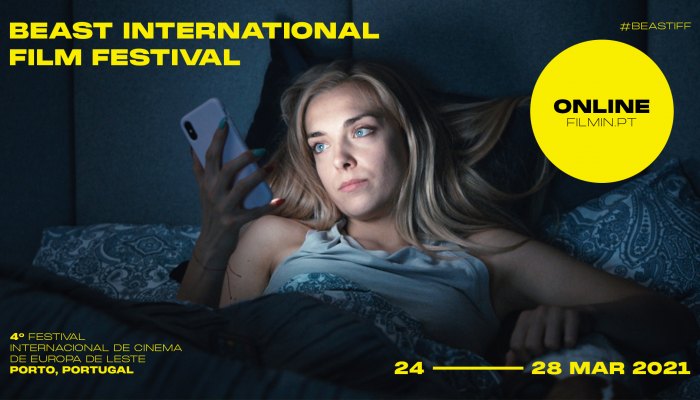 The festival establishes itself as a complex channel of contemporary culture from Central and Eastern Europe to Portugal, putting the spotlight on novel cinematographic trends of countries such as Croatia.
Since 2017, BEAST International Film Festival has been proving itself and to the public as an event that shines an important light on the East European cinema landscape. While exploring the Balkans, Baltics, or Post-Communism, BEAST IFF has opened a cultural umbrella covering 21 countries, with a unique focus on diversity bringing new works and talents that represent the latest faces of the New East in cinema.
With the challenges generated by the pandemic and the viability for an enriching online experience, BEAST International Film Festival will first kick off from the 24th to the 28th of March in partnership with the Portuguese streaming platform Filmin. Born from a collaboration and dialogue initiative between Portuguese cinematographic operators, critics, festivals and national as well as international cultural institutions, Filmin is the main independent cinema streaming platform in Portugal.
BEAST IFF's programs, such as Focus Country, V4 Screen, EastWave, experimentalEAST, and EastDoc will be available until the 4th of April for Filmin subscribers, or through a pay-per-view format on its website. Alongside the Portuguese streaming website, platforms such as Vimeo, YouTube, Twitch, Facebook, and Instagram will also host BEAST IFF's screenings, events, live streams, and Q&As.
This year, Romania is the focus of the festival through the Focus Country section, but other Eastern and Central European nations will be highlighted by the program as well. The Official Competition, which has functioned as the core of BEAST International Film Festival since its first edition, will give a platform to four films from Croatia.
In the EastWave program, aimed towards supporting short and medium-length fiction films by promising young talents, Croatian director Josip Lukić presents Summer Fruits, a story built around the idea that summer fruits are refreshing but high temperatures can make them go bad. The film is competing for the best fiction film award. Additionally, the EastDoc section which promotes selected works that stand as clear windows towards real stories from Central and Eastern Europe, showcases A Cat Is Always Female by Martina Meštrović and Tanja Vujasinović competing for best documentary film. Through a feminist lens, the filmmakers pay homage to their professor Marija Ujević Galetović – one of Croatia's most important sculptors. Marija's life story and views are told through a combination of video footage and animation of her feminine sculptures.
Furthermore, two films are competing for best experimental film award. In An apple, three toasts, a yoghurt the director Anita Čeko is reaching to her old diary entries that evoke some important moments in her memories. ALEPH ZETA (XVII): The Star by Ana Buljan is a poetic journey through distant and almost inaccessible areas of the Panamanian jungle and Atacama Desert portrayed using conceptual and technical experimentation that is representative of the experimentalEAST section it is a part of.
After the end of the edition in March, BEAST IFF will continue until June 1st, through special monthly screenings, events, and the Visegrad Film Hub – an industry event dedicated to the Visegrad countries –, including even more screenings, masterclasses, and workshops, with an online and possibly on-site offer. In case it's safe for festival spectators in the nearby future, limited screenings and activities will be held in the city of Porto at venues such as Cinema da Trindade, Cinema Passos Manuel, Casa das Artes, and Almeida Garrett Municipal Library.
The festival structure is designed in a way as to provide a diverse collection of films as part of the official competition and as part of the special programs. Since its existence, BEAST International Film Festival has presented over 300 short, medium-length, and feature films, several world, European and Portuguese premieres, and more than 150 screening sessions, including special line-ups of national and international guests.
Some of the activities, such as screenings, Q&As with filmmakers, BEAST Talks, and The Mirages of Freedom and School Visit programs will be available for worldwide audiences, free of charge, through online channels.
For more information please visit: Website, Facebook, Facebook Event and Instagram.