Bad Luck Banging or Loony Porn earns East – West Golden Arch award and Oscar candidacy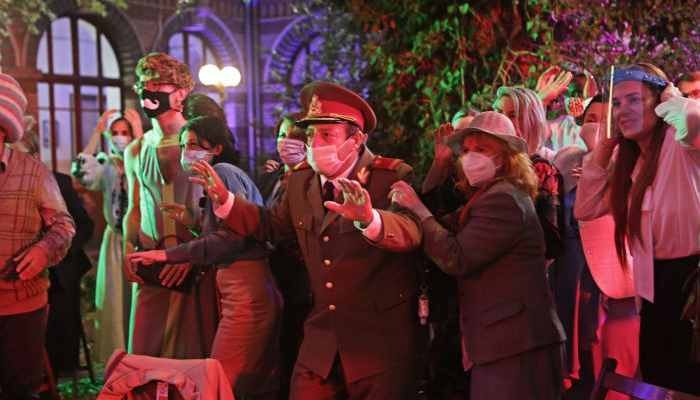 Radu Jude's Bad Luck Banging or Loony Porn, a co-production between Romania, Luxembourg, the Czech Republic and Croatia (with Kinorama as the Croatian co-production partner and Ankica Jurić Tilić as co-producer) was named Best Feature at the 3rd edition of the East – West Golden Arch International Film Award, awarded to the best cinematic achievements in Eurasia. In addition, the film has also been voted Romania's Oscar candidate.
"After premiering at Berlinale and winning the main award, Radu's film has continued its festival tour, and has now received another commendation - this time a professional recognition that is really gratifying. In the meantime, it has won awards at the Pula Film Festival at home, as well as the Golden Mimosa for Best Director at the Montenegro Film Festival, while in the Czech Republic, which is one of the co-production countries, it received the Golden Kingfisher Award at the Finále Plzeň Film Festival. The film is also Romania's contender for the Academy Award. The audience in Zagreb will soon be able to see it in the "Together Again" programme at the Zagreb Film Festival", said on that occasion, Ankica Jurić Tilić, the film's Croatian co-producer.
The award ceremony was held on 25th October at the Khudozhestvenny Cinema in Moscow, while the best film was presented by Andrey Plakhov, a film expert and critic and the East – West Golden Arch Award programming director. He noted that the main award was rightfully awarded to Romania, which has long held a leading position in the world of independent cinema.
The East-West Golden Arch International Film Award seeks to encourage and promote discoveries from Eurasia, shining a light on the compelling artistic processes that take place in this region, which are frequently overshadowed by the more commercial cinematic language, predominantly in English. The winners in several categories, including film, directing, screenwriting, as well as the best leading actor and actress, are chosen by a jury composed of 24 film critics from around the world.
All other details may be found on the following link, while a list of all winners is available here.
Bad Luck Banging or Loony Porn has also been selected as Romania's Oscar candidate, which is director Radu Jude's third film that's been Romania's entry for Oscars in the category of Best International Feature Film. The Academy Award nominations will be announced on 8th February 2022, while the Oscars gala is scheduled for 27th March.
Bad Luck Banging or Loony Porn is a story about Ema, a schoolteacher who finds herself in a quandary after a private video of her having sex with her husband is leaked to the public. Even though she is forced to deal with a group of furious parents insistent on her dismissal, she refuses to bow down to their pressure. Radu Jude delivers a thrilling amalgam of unconventional form, uncompromising humour and scathing commentary on hypocrisy and prejudice in today's societies.
In addition to directing the film, Radu Jude also wrote the screenplay, Ada Solomon (microFILM, Romania) produced it, with co-producers Paul Thiltges and Adrien Chef (Paul Thiltges Distributions, Luxembourg), Jiří Konečný (endorfilm, Czechia) and Ankica Jurić Tilić (Kinorama, Croatia). The director of photography is Marius Panduru RSC, with editor Cătălin Cristuțiu, and composers Jura Ferina and Pavao Miholjević. Hrvoje Radnić and Dana Bunescu created the sound design, while production design was done by Cristian Niculescu and costume design by Cireșica Cuciuc. Staring in the role of schoolteacher Ema is Katia Pascariu, along with appearances in other roles by Claudia Ieremia, Olimpia Mălai, Nicodim Ungureanu, Alexandru Potocean and Andi Vasluianu.
The film was supported by the Croatian Audiovisual Center.
Cover photograph: scene from Bad Luck Banging or Loony Porn