Awards presented at 2017 Docu Rough Cut Boutique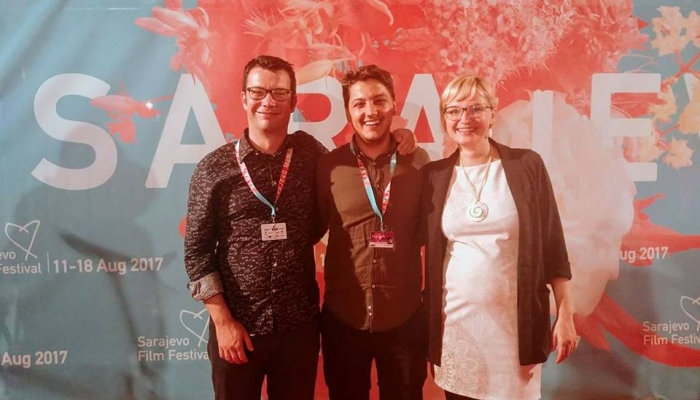 Nebojša Slijepčević's documentary film under development, Srbenka, won three of a total of five awards at this year's Docu Rough Cut Boutique, held during the 23rd Sarajevo Film Festival. The film is produced by Restart, and the producers are Vanja Jambrović and Tibor Keser.
The film received the HBO Adria Award which comes with a 2 000 EUR cash prize. The film received another 2 000 EUR prize included in the CAT&Docs Award.
The project also received the Digital Cube award which includes post-production services in the amount of 20 000 EUR.
The programme mentors were Catherine Le Clef, director of CAT&Docs (documentary film distribution firm), HBO executive producer Hanka Kastelicova, editor Thomas Ernst, film director and producer Noemi Schory, producer Stefano Tealdi, editor Maya Hawke, producer Martichka Bozhilova, and festival programmer Rada Šešić.
Srbenka questions the meaning of national identity within so-called Generation Z, people born after the Homeland War. They are young Croatian citizens who have spent their whole lives in Croatia, all are of Serbian nationality and all feel labelled by their nationality. The film explores the circumstances in which young people feel guilty for things that happened before they were born, as well as the society which, even twenty years after the war ended, still cannot free itself of the traumas.
Besides Sarajevo, Srbenka also participated at ZagrebDox Pro at the 11th ZagrebDox festival. The industrial segment is directed by Leena Pasanen and Stefan Tealdi, and the project is supported by the Croatian Audiovisual Centre and Creative Europe – MEDIA Sub-programme.
Docu Rough Cut Boutique is an intensive five-day program focusing on documentary films in South Eastern Europe that are in the production or post-production phase. The program includes expert lectures, group discussions, and culminates at closed screenings and one-on-one meetings with mentors. For a full list of recipients please follow this link.