Animated film Here There at 58th DOK in Leipzig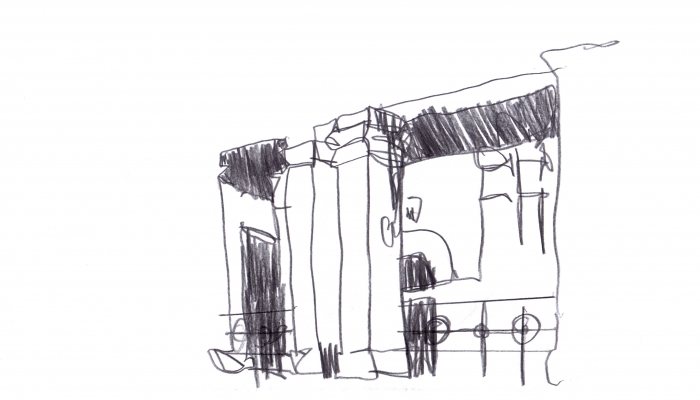 Here There, an animated film directed by Alexander Stewart, produced by Zagreb's Bonobostudio, has been selected to compete at one of Europe's most significant festivals dedicated to animated and documentary films, DOK Leipzig. As well, Daniel Šuljić's The Cake (1997) will be screened in the Festival's retrospectives programme.
The 58th International Leipzig Festival for Documentary and Animated Film runs from October 26th to November 1st. The festival will screen over 200 films from around the globe. 2600 films applied to the festival of which 150 of them were selected for competition.
Here There, an animated film directed by Alexander Stewart will be screened in the International Competition Short Film programme. Here There begins as a travel log, with sketches drawn during the summer of 2014 on the Croatian coast and in Zagreb. Details soon turn to abstract impressions from the edges of memory. The film is Stewart's authorial work while Darko Masnec is the co-animator. Ivan Košutić and Jelena Oroz are the colorists, Gideon Kiers is the sound mixer, and Vanja Andrijević of Bonobostudio is the producer.
The retrospective programme, Moving Borders, will feature the animated film The Cake by Daniel Šuljić. The film was made in 1997 and produced by Zagreb Film. The Cake shows 'an argument over the biggest piece of cake, in other words, a satirical animation of the breakup of Yugoslavia'.
The festival market's 'Video Library' will also include three Croatian films available for viewing to film professionals during the duration of the market. The three films are Eva Kreljević's I Like That Super Most the Best, Damir Čućić's The Spirits Diary, and Sick by Hrvoje Mabić.
For the third year in a row, the SEED – South East European Documentaries regional initiative will be held in Leipzig. The initiative is organized by Restart in cooperation with the Croatian Audiovisual Centre and eight other regional partners: Slovenian Film Centre, Macedonian Film Agency, Kosova Cinematography Center, Sarajevo Film Fund, Film Center Serbia, Balkan Documentary Center – Bulgaria, Mediterranean Film Festival Široki Brijeg and Dokufest Prizren. The aim of the initiative is to direct attention towards regional coproduction potential, introduce the latest films and encourage documentarist networking within Southeastern Europe and beyond it. SEED has also published a new issue available in the attachment, and a 'Get Together' social platform for film professionals will be organized on October 29th.
More information can be found on the festival's official website.