Animated film Airport premieres in North America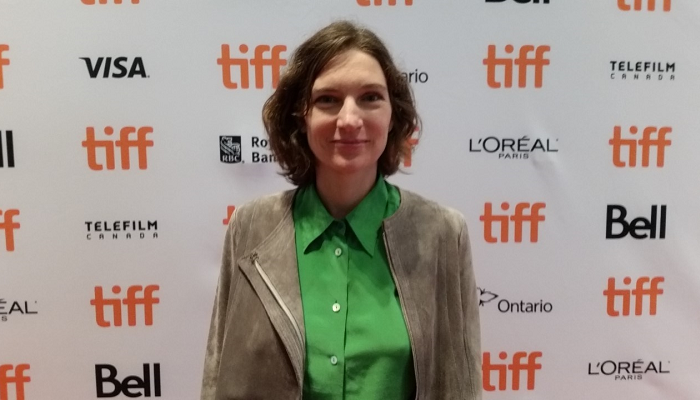 Toronto, September 12 – The North American premiere of the animated film Airport was held on Monday at the 42nd Toronto International Film Festival. The film is screening the 'Short Cuts' category of this prestigious festival. The screening was attended by the film's director Michaela Müller.
The author of the Swiss-Croatian co-production said, 'The feeling is wonderful to finally celebrate the years of work and results of this film at its North American premiere at the Toronto International Film Festival, as well as hearing the reaction from the public. People came up to me after the screening to tell me how much they enjoyed the film. I am thankful to the selectors who chose to screen Airport in the Short Cuts programme, giving me a chance to meet with other filmmakers, hear their stories and see their films. The whole experience has been impressive and encouraging.'
Airport is one of 35 films from 30 countries screening in the Short Cuts competition programme. The film is about an airport as the culmination of modern society, a place where the boundaries of security, tolerance and geographical borders are constantly tested. While for some the journey only begins, for others it comes to a sudden end. Michaela Müller is the film's author, director, animator, designer, cinematographer and editor, while Aleksandar Battista Ilić co-wrote the film and Hrvoje Štefotić is the musical composer. The film's producer is Ruedi Schick (Schick Productions), while the Croatian co-producer is Ankica Jurić Tilić (Kinorama).
The Toronto International Film Festival is one of the most prestigious festivals in the world and hosts more than 480 000 visitors each year. It has been held since 1976 and has always been a unique cultural institution which organizes not only screenings but also numerous lectures, workshops and film industry events throughout the year. This is the second year in a row that a Croatian short film is screening in the Short Cuts programme. Last year, at the 41st TIFF, Half a Man by Kristina Kumrić screened in the same category. For more information on this year's festival please visit the official website.
Airport was filmed with support from the Croatian Audiovisual Centre, The Swiss Federal Office of Culture, The Canton of St. Gallen Office for the Promotion of Culture, The Canton of Appenzell Ausserhoden Office for the Promotion of Culture, Zürich Filmfund, Migros Kulturprozenta, and SRG SSR.
Cover photo: Michaela Müller