A Stranger by Bobo Jelčić at the 63rd Berlinale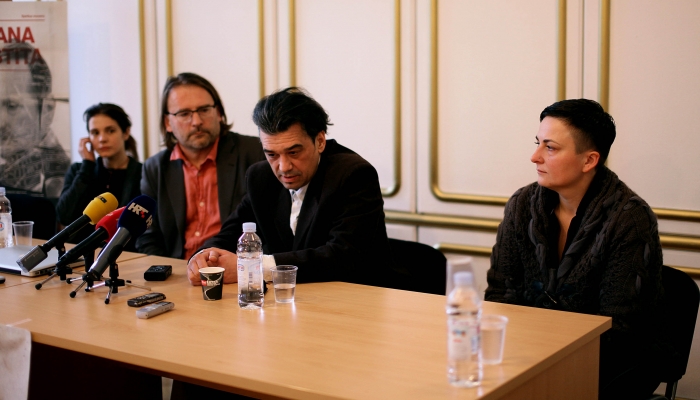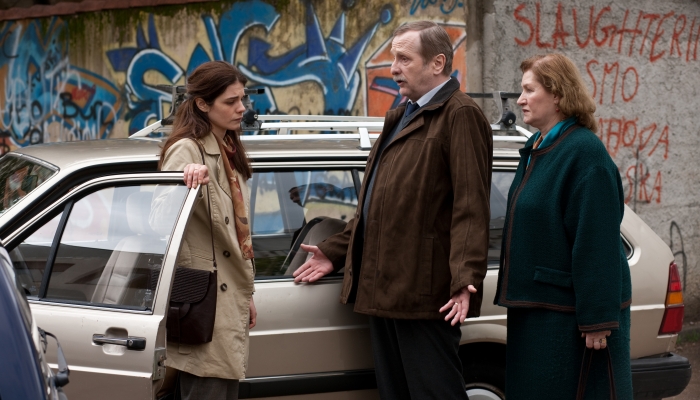 The new feature-length film A Stranger (Obrana i zaštita) by Bobo Jelčić will premiere within the Forum programme of the 63rd Berlin International Film Festival. Forum is dedicated to innovative works which represent a shift from mainstream and foster unconventional cinematic approaches.
On 16 January at the Croatian Audiovisual Centre a press conference took place to announce that A Stranger was selected for the Forum programme of the prestigious Berlinale. The conference speakers were director Bobo Jelčić, producer Zdenka Gold from Spiritus movens production company, cast members Ivana Roščić and Vinko Kraljević and the Head of the Croatian Audiovisual Centre Hrvoje Hribar.

The plot of A Stranger takes place in today's Mostar and documents a day in the life of a middle-aged man called Slavko (Bogdan Diklić). When his old friend Đulaga dies, Slavko feels obliged to attend the funeral. However, in his native town of Mostar this simple social duty could cause him problems with his neighbours or even local political leaders. If he does not go, his wife (Nada Đurevska) will think of him as a coward, the grieving family will never forgive him and neither Slavko will forgive himself.

A Stranger is the second feature-length fiction film by the famous Croatian theatre director Bobo Jelčić and the first feature-length fiction film produced by Zdenka Gold from Spiritus movens production company. Bobo Jelčić also wrote the script, Erol Zubčević was the director of photography, Ivana Fumić the editor, Mario Ivezić the art director, Sanja Džeba the costume designer, and Ana Bulajić Črček the make-up artist. The film was co-produced by Josip Popovac (HRT), Tomislav Bubalo (Kadar) and Tomislav Topić (Kadar), and it was co-funded by the Croatian Audiovisual Centre.

A Stranger emerged out of my need to define the current situation in Mostar, but not the external, political one, but the internal and psychological situation, as an emotional sublimation of sorts. The idea was to penetrate into the behavioural template of a man living in Mostar, with no dominant ideological hypotheses. This, naturally, has to do with mentality, as well, said Bobo Jelčić about the need to make a film on this topic.

Since he was also born in Mostar, Jelčić commented on the personal side of returning to Mostar. Emotionally it is too overbearing to return to one's own place, a space you left long ago, with a meaning of returning to the past. It is burdening even without the war, let alone after it happened and determined our future, not the mention the present. Exorcism, no matter how figurative it may sound, is necessary and indispensable.

Bobo Jelčić and Zdenka Gold also commented on the fact that the film was selected for the prestigious Berlinale Forum programme. Jelčić said: I am, of course, honoured and extremely pleased that this happened. Especially because I come from a different world, the theatre world. I am very interested to see how the film goes in Berlin and if it will be as successful as our plays. Zdenka added: To me this is a great recognition and a reward of sorts. A great confirmation of the quality of the film we made, a reward for everything we have been through while making this film. This recognition is even greater taking into account the fact that Bobo and I are new on the film scene. With such a great start and a good tailwind you can expect even more from us!

The Forum programme (International Forum of New Cinema) will this year live to see its 43rd edition. In terms of programme, this is the most daring section of the International Film Festival in Berlin, with an accent on innovative works that represent a shift from mainstream and foster unconventional cinematic approaches.

Photographs from the press conference, stills from the film and other press-related materials are available here. Berlinale's press release is available here. Still photographs from the film were taken by Nikola Predović and Marko Stanić.
Cover photo: Ivana Roščić, Hrvoje Hribar, Bobo Jelčić and Zdenka Gold