71st Venice: Emir Hadžihafizbegović Wins Best Acting Award in Horizons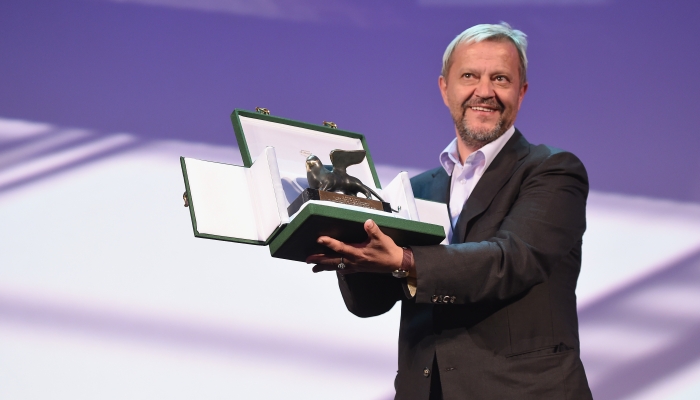 Venice, 6 September – The jury of the 71st Venice International Film Festival's Horizons section has presented the best actor in a leading role award to Emir Hadžihafizbegović for his part in the film These Are the Rules, written and directed by Ognjen Sviličić, who said in Venice tonight: 'We have confirmed that Croatian film is sturdy and ready for big things.'
Emir Hadžihafizbegović said after he received the award: 'This is the most important recognition in my career. I want to thank everyone, from my partner Jasna Žalica, to the drivers on the set and the producers. I take this award from Venice with exhilaration and pleasure, but also I feel great responsibility in terms of my future roles. I am glad to bring this joy to both Croatian and Bosnian and Herzegovinian cinema.'
These Are the Rules, written and directed by Ognjen Sviličić, is one of 17 feature films to compete in Horizons, Venice's official selection. The film is a Croatian-French-Serbian-Macedonian co-production, supported by the French National Centre for Cinema and its Aide aux cinemas du monde fund.
The film follows a married couple from the Zagreb neighbourhood of Savica, starring Emir Hadžihafizbegović and Jasna Žalica, facing the worst situation in their lives. When their son ends up in hospital after a street fight, Maja and Ivo will have to tackle the state institutions, which are never on their side – and this is what the film title refers to.
Opposite Hadžihafizbegović and Žalica, the film stars Hrvoje Vladisavljević and Veronika Mach. The producers are Damir Terešak (MaXima Film, Croatia), and Janja Kralj (KinoElektron, France), with co-producers Nikolina Vučetić Zečević (Biberche Productions, Serbia), and Svetozar Ristovski (Trice Film, Macedonia). The director of photography was Crystel Fournier, editor Atanas Georgiev, set designer Ivan Veljača, costume designer Katarina Zaninović, and sound designers Tomislav Gašparić and Jean-Guy Veran. The film was co-funded by the Croatian Audiovisual Centre and Croatian Television.
All the press materials for this film, including a trailer in HD and high-resolutions stills, and photos from the premiere and the award ceremony can be downloaded on this link. (*Award ceremony photos copyright: Guliver Image/Getty Images).