17th Motovun Propeller to Ukrainian film The Tribe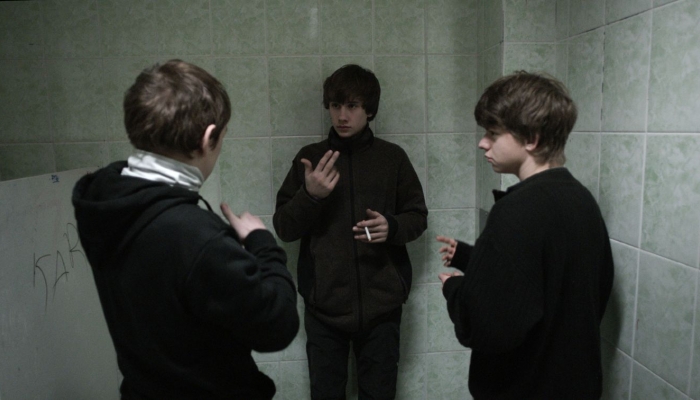 Motovun, 30 July – The Ukrainian film The Tribe, written and directed by Myroslav Slaboshpytskiy won the 17th Motovun Film Festival.
The Tribe takes place in a deaf boarding school, where the protagonist finds his way through the hierarchy of a criminal organisation, breaking all of its unwritten rules. The entire communication in the film is in Ukrainian sign language, and the film is shown without subtitles. The film had its world premiere in May at the 53rd Critics' Week, taking place within the 67th Cannes International Film Festival, where it won the Grand Prix and France 4 Visionary Award.
A special jury was called to decide on this year's Motovun Propellers – Jury in Exile, consisting of artists and activists whose activity forced them to leave their home countries: Jafar Panahi (director, Iran), Inna Schevchenko (activist, Ukraine), Nikolai Kalezin (director, Belarus), Natalia Kaliada (director, Belarus) and Ala'a Basatneh (activist, Syria).
The jury's Special Mention went to the German film The Police Officer's Wife by Philip Gröning, which also won a special mention last year in Venice, while the FIPRESCI Award went to Swedish director Ruben Östlund for the film Force Majeure, an observational comedy about the role of man in modern family life.
In the Motovun Shorts category, the last year's winner Christos Nikou presented the award to the Polish film Arena, written and directed by Martin Rath, about a hitch-hiker who happens to wind up in an isolated mountain community.
Special awards of the 17th Motovun went to Arsen Dedić for 50 years of work on film music, and Russian filmmaker Andrei Zvyagintsev – the Maverick Award given by the festival to 'filmmakers who fought for their own individual creative path'.
The festival closed tonight, and continues until 3 August in Buzet with a children and youth programme Buzz@teen and the soon Motovun in Zagreb programme. The 17th edition of Motovun brought the largest number of films so far, including the winner of Pula, Number 55 by Kristijan Milić and Children of Transition by Matija Vukšić in the feature category, and President Nixon's Present by Igor Šeregi, Table in Between by Silvija Ćapin, Thresholds by Dijana Mlađenović, and Games, the film made at the International Film Workshop of the Festival of Tolerance, in the short competition.
More information about the awards at the 17th Motovun Film Festival can be found on the official website.
Title photo: The Tribe