1001 Nights world premiere at 48th Toronto International Film Festival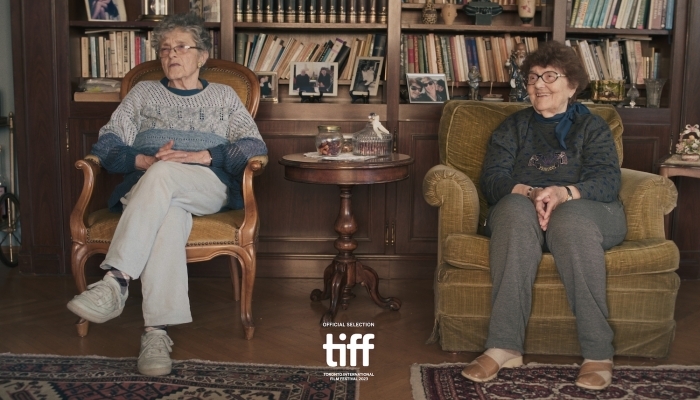 Rea Rajčić's documentary short 1001 Nights has been selected to appear in the prestigious TIFF Short Cuts competition which will include 42 films from 23 countries. The Toronto International Film Festival will run 7th – 17th September 2023.
1001 Nights is the first Croatian short selected for Short Cuts in the last seven years, since the last time Croatia was represented in the programme was in 2016 (with Croatian production, Kristina Kumrić's short Half a Man, while a minority co-production Toomas Beneath the Valley of the Wild Wolves by Chintis Lundgren screened at the same section in 2019.). Announcing the programme, the organisers highlighted the fact that more than half of the short films this year have been directed or co-directed by female directors.
1001 Nights directed and written by Rea Rajčić is a story from the microcosm of two women in their senior years, Ema (89) and Maja (85), whose evenings are filled with a common love of Turkish soap operas.
"1001 Nights is a documentary created out of great admiration for Ema and Maja's liveliness and energy, two enchanting women about to reach their nineties. At the same time, this film is a dedication to audiovisual production, which is also my personal passion. We are often not even aware of how much film, television, TV series, and any other content we consume in various stages of life through various media, is a source of support for many, helping them to understand, analyse and question life, overcome hardship, and most importantly, talk to each other. Even if what they watch are Turkish soap operas", said Rea Rajčić.
"Seeing Ema's Split apartment living room on the big screen of the Toronto International Film Festival will be a surreal experience. I hope that the noise of the Split peacocks will resonate across cinema halls of numerous festivals as loudly and as long as possible in the year ahead", added Rajčić.
The film is produced by Tina Tišljar and Rea Rajčić for production house Eclectica, while other crew members include cinematographer Marinko Marinkić, editor Karla Folnović, sound designer Luka Gamulin, composer Dubravko Robić, production sound mixer Ivan Zelić, while colour corrections was done by Tomislav Stojanović.
Rea Rajčić (1989, Split, Croatia) earned her degree in film production from the Academy of Dramatic Art in Zagreb, where she now works as lecturer and head of the Production Department. Her production company Eclectica (The Uncle, Mardešić/Kapac, TV series Kolaži o laži, Slijepčević/Gamulin) was founded in 2015 with a focus on feature and documentary projects with a strong directorial signature, most often collaborating with first-time directors. She is the winner of the Young Producer Award at the Sofia International Film Festival, was awarded for best pitch at the European Short Pitch 2018, Sofia Meetings 2019, Connecting Cottbus 2020, and CineMart at the 2022 International Film Festival Rotterdam. She participated in the Emerging Producers programme and Rotterdam Lab in 2020. Her directorial debut is 1001 Nights.