I Would Leave Everything Here
view in croatian
Orig. Title: Sve bih ostavio ovdje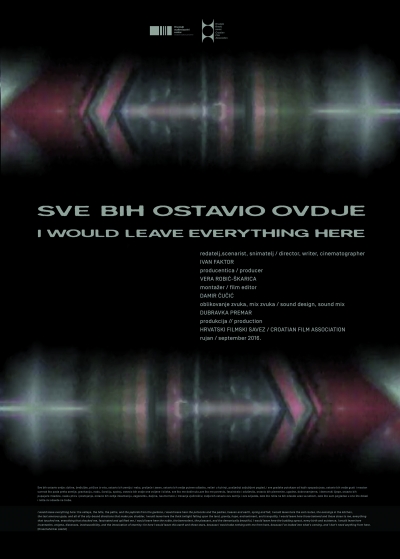 Looking through the window, the author observes changes throughout the four seasons, capturing them on a small dv camcorder.
Director

Ivan Faktor

Screenplay

Ivan Faktor

Cinematography

Ivan Faktor

Producer

Vera Robić-Škarica

Editing

Damir Čučić

Sound Design

Dubravka Premar

Production

Hrvatski filmski savez

Support

Hrvatski audiovizualni centar
Ivan Faktor was born in Crnac (Slavonia) in 1953. He is active in experimental film, photography, video and video-installations. Author is creating films, and later video pieces, continuously since 1975. Since 1979 he is participating in conceptual actions and exhibitions, performances with video and film; creates installations and multimedia shows. In 1995 he participated at the 46th Venetian Biennale (A Casa/At Home2) and in 2002 he was a representative of Croatia at the 25th Sao Paulo Biennale. He was awarded numerous awards in Croatia and abroad which only confirmed his large contribution to this branch of art.