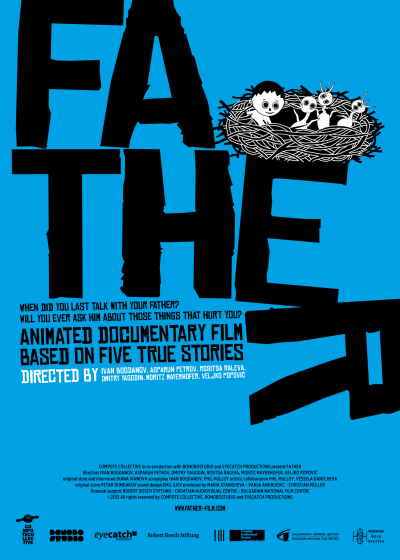 In Father, the reality of life is turned upside down in order to achieve an impossible dialogue – the dialogue between a child and a father which never happened.
Director

Ivan Bogdanov | Asparuh Petrov | Dmitry Yagodin | Rositsa Raleva | Moritz Mayerhofer | Veljko Popović

Screenplay

Ivan Bogdanov

Animation

Asparuh Petrov | Dmitry Yagodin | Vessela Dancheva | Moritz Mayerhofer | Kristijan Dulić

Character Design

Asparuh Petrov | Dmitry Yagodin | Rositsa Raleva | Christopher Lutz | Veljko Popović

Editing

Ivan Bogdanov

Music

Petar Doundakov

Sound Design

Emil Iliev

Voices

Harry Anichkin | Ivana Gavrailova | Eltimir Aleksandrov | Deliana Hristova | Boris Deliradev | Katrin Toneva

Producer

Maria Stanisheva

Production

Compote Collective (BG)

Co-production

Bonobostudio (HR), Eyecatch Productions (DE)
Ivan Bogdanov (1973) holds a BFA degree in media and animation from the Willem de Kooning Academy of Art and Design, Rotterdam (2001).
Moritz Mayerhofer (1981) studied animation at the Filmakademie Baden-Württemberg. His graduation film Urs, which has been shortlisted for nomination for the 2011 Academy Awards.
Asparuh Petrov (1981) is a graduate of the High School of Applied Arts in Trojan, Bulgaria.
Veljko Popović (1979) graduated in 2003 from the Department of Painting at the Academy of Fine Arts in Zagreb.
Rositsa Raleva (1979) graduated from the Fine Arts Academy in Sofia in 2001. Since her graduation, she has worked as a graphic designer and art director at an advertising agency.
Dmitry Yagodin (1979) works as a freelance artist. He studied animation at the National Academy for Theatre and Film Arts in Sofia.